Fears over closure of Boulmer and Portland rescue bases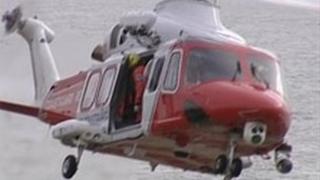 The head of a Commons select committee has told ministers axing helicopter search and rescue bases in Dorset and Northumberland may put lives at risk.
Transport Committee chairman Louise Ellman said she was "surprised and disappointed" by the planned closures of Portland Coastguard and RAF Boulmer.
In a letter to Transport Secretary Patrick McLoughlin, she urged him to take account of public concerns.
Operations are due to cease by 2017 in favour of civilian helicopter crews.
In her letter Mrs Ellman said there were "understandable concerns that the withdrawal of the bases would lead to slower response times and increased fatalities in the areas affected".
She added that it was not too late to change the plans before the government's new search and rescue (SAR) helicopter contract deal was signed.
Response times
The Department for Transport said a new fleet of helicopters operating from 10 full-time bases would provide a more reliable service.
Mrs Ellman wrote: "People rightly expect that the government will listen to their views and concerns, taking them into account before major decisions are reached.
"This has not happened with the planned closure of the helicopter bases at RAF Boulmer and Portland, despite compelling arguments that these closures may cost lives."
South Dorset MP Richard Drax said he was "delighted" at the select committee's intervention and said the government would be "negligent" if it did not re-examine the decision.
He said: "I would be very surprised if the government doesn't change its mind.
"The select committee report is very powerful and if people then start dying - no secretary of state is going to want that upon his conscience. Apart from that, it's ludicrous to get rid of this [Portland's] helicopter."
Mrs Ellman said her committee was also seeking clarification on the specification of the new SAR helicopter contract and details about response times.
A Department for Transport spokeswoman said: "Independently verified analysis shows that the two bases from which it would be operationally most sensible to remove search and rescue operations would be the daytime-only base of Portland and RAF Boulmer in Northumberland."
Operations based at RAF Boulmer will cease in 2015 while search and rescue operations at the Portland coastguard centre will end in 2017.
Search and rescue operations are currently provided by the Ministry of Defence (MoD), which uses Sea King helicopters from eight military bases, and the Maritime and Coastguard Agency (MCA), which operates from four civilian bases.