John Lennon's tooth tours dental practices around UK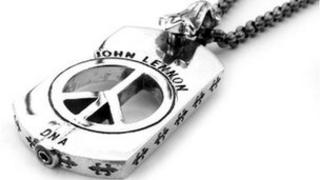 Part of John Lennon's tooth is being taken on a tour of UK dental surgeries to raise awareness of oral cancer.
The tooth was given by the former Beatle to his housekeeper Dot Jarlett, who worked for him in the 1960s.
It was bought by Canadian dentist Michael Zuk for £19,500 at an auction in Stockport last November.
The tooth was made into three necklaces - one of which is being displayed at 15 dental practices around the UK to highlight Mouth Cancer Action Month.
As the necklace arrives at each practice, people coming to see it will be offered free screenings for mouth cancer.
Mouth cancer kills about 1,700 people in the UK every year.
The most common symptoms include painless ulcers that do not heal, red and white patches and unusual changes in the mouth.
Cancer Research UK says oral cancer rates are increasing - by 2030 it is predicted there will be 9,200 cases of oral cancer in the UK every year compared with 6,240 in 2009.
The tour has already visited practices in Hull and Formby, Merseyside, and is set to visit Preston, Lancashire, on 19 November.
Between November and January it is due to visit practices in London, Stafford, Chorley, Cheltenham, East Grinstead, Leeds, Windsor, Bexhill-on-Sea, Brighton, Liverpool, Glasgow and Dublin.
Lennon's housekeeper was given the tooth when she worked for him at Kenwood mansion in Weybridge, Surrey.
He told her to give it to her daughter "as a souvenir" after he had pulled it out in the kitchen of the property.
Mr Zuk, who has written a book on celebrities' teeth, had the tooth turned into pendants by Beverley Hills jewellery designer Ari Soffer and each has been valued at about US $25,000 (£15,725).
Mr Soffer has also made jewellery for Tommy Lee, Axl Rose and Slash.