PCC election: Devon and Cornwall returning officer prepares for poll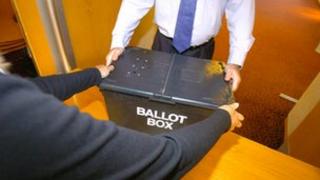 More than 4,000 people across Devon, Cornwall and the Isles of Scilly are involved in the elections for the first police and crime commissioner.
More than 1.3 million people are eligible to vote in the poll on Thursday, co-ordinated, counted and called by staff in Cornwall.
Returning Officer Kevin Lavery said it was a "feather in the cap" for the county to run the poll.
Ten candidates are running. The result will be announced on Friday.
'Groundbreaking poll'
The current Devon and Cornwall Police Authority is due to be replaced by the new commissioner after the election.
Staff have been training for the running of the poll and the result announcement for the past few weeks, managers said.
Dave Cunningham, the deputy electoral services manager at Cornwall Council - which is leading on the election - said the poll was groundbreaking for the county.
He said: "It's a new election, we're using a brand new voting system with a supplementary vote, we've not done that before; and there's also the fact that we're trying to run it, logistically in Devon and Cornwall.
"These three things together are what make it exciting."
Police Area Returning Officer Mr Lavery, who is Cornwall Council's chief executive, said it was a much more complicated election than the county was used to because "the numbers are huge".
He said: "There are 1.3 million people voting in the area, we've nearly 1,400 polling stations, over 4,000 staff and we're dealing with 200,000 postal votes too."
Polling stations will be open from 07:00 until 22:00 GMT.
Apart from those on the Isles of Scilly, ballot papers will be transported to Carn Brea leisure centre, near Redruth, to be counted on Friday.
The commissioner will be responsible for the force's budget and the hiring and firing of chief constables.
There are 10 candidates for the post, the highest tally of any of the 41 force areas in England and Wales holding elections.
By comparison, there are only four candidates in the neighbouring Avon and Somerset force area.
The name of the commissioner is not expected to be revealed until Friday evening, Cornwall Council said.