First Bus staff to strike in Cornwall and Devon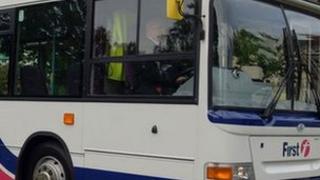 First Bus Group has warned customers in Cornwall and Devon to expect widespread disruption during a strike to be held on Thursday.
Workers are staging a 24-hour walkout from 00:01 GMT after failing to reach an agreement with the company over a proposed pay deal.
A similar strike held on 26 October affected more than 90% of routes.
First said it hoped to be able to run a similar or better level of service than that during the October strike.
However, customers have been advised to prepare for "significant disruption", the company added.
'Disappointed and frustrated'
The strike action had originally been planned for 8 November but was put on hold to allow talks to continue.
First said it had been informed by the RMT union that drivers and engineers would stage a 24-hour walkout on 15 November over the continuing pay dispute.
Phil Bialyk, from the RMT, said: "Members believe the company has been stalling to delay any rise. This rise has not been backdated, which has been the last straw for them.
"They're not prepared to accept the offer because the company, in their view, has not been straight with them."
Hundreds of services were cancelled during industrial action on 26 October.
First said it was disappointed and frustrated at the planned action.
Karen Baxter, from First, said: "We have to recognise times are tough and we have to work together to make it stronger, so we can all enjoy the benefits of that going forward."
The company employs 675 people in Devon and Cornwall.
Managers from the bus company and the RMT union had held meetings over a pay offer which guaranteed staff a 2% pay increase from 2 December, followed by a 2.3% increase from April 2013.