Alex Salmond: One North East scrapping was 'vandalism'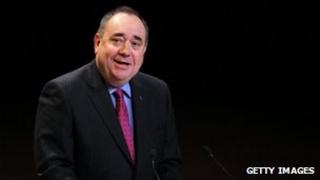 Alex Salmond has described the scrapping of north-east England's regional development agency (RDA) as an "act of vandalism".
Scotland's First Minister made the remarks during a visit to Newcastle to address the North East Economic Forum.
But Peter Jackson, leader of the Conservatives on Northumberland County Council, said he was lecturing people on matters "beyond his jurisdiction".
One North East was abolished in April 2012 along with the other RDAs.
The coalition government described them as inefficient and bureaucratic and said replacements such as local enterprise partnerships between businesses and councils, the multibillion-pound Regional Growth Fund, and enterprise zones were much better ways to kick start and support the region's economy.
Mr Salmond told the BBC: "Getting rid of the economic development agencies was an act of vandalism.
"It's the lack of these counterbalancing institutions when compared with the power, the centrifugal force, of London that leaves this area of the country very exposed, and it doesn't help Scotland at all for the north east of England to be lagging behind."
Mr Jackson, a former One North East board member, said that locals would not appreciate being lectured by Mr Salmond.
'Huge budget'
He added: "You have to admit that it (One North East) was a very large organisation employing in excess of 400 people with a huge budget that the country can't afford any more.
"We do have the new North East LEPS, we have the Regional Growth Fund which has put hundreds of millions of pounds into the North East economy, and the North East in particular has been very successful in bidding for that fund, and we have the new enterprise zones."
The SNP-led Scottish government has been accused of poaching jobs from the North East of England because its development agency, Scottish Enterprise, is still operating while England's regional development agencies have been abolished.
This, it is claimed, has given Scotland an unfair advantage.
Last year online retailer Amazon chose to open customer service and distribution centres in Scotland after Scottish Enterprise offered help worth around £11m, creating hundreds of new jobs.
Amazon had been due to locate part of its operation at the Cobalt business park in North Tyneside, before the company opted for Scotland instead.
But Mr Salmond said the finger of blame should be pointed at Westminster, not at the Scottish government, and that he was simply doing his job as first minister fighting for Scotland.