Brittany Ferries fears fuel switch could close routes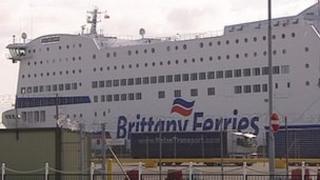 Brittany Ferries says an enforced switch to using less polluting fuels could lead to it closing services, raising fares and cutting jobs.
Under European legislation, ferry operators will have to use greener, lighter fuels such as diesel by 2015.
Brittany Ferries says the change will see its annual fuel cost rise by 60% - from £65m to more than £100m.
Up to 100 jobs could be at risk in Portsmouth. The firm also runs Channel ferries from Plymouth and Poole.
'No supply chain'
The maximum sulphur content in maritime fuel is currently 1%. From 2015, under the International Convention for the Prevention of Pollution from Ships it will have to be 0.1%.
The government supports its aims, but is aware of concerns the more stringent limits could have on operating costs.
Brittany Ferries spokesman Stephen Tuckwell said the 2015 deadline would leave insufficient time to invest in alternative technologies.
He said: "This forces us to look at other fuel solutions such as liquefied natural gas (LNG), but there is no supply chain in place and this is likely only to be viable for new ships from 2020.
"The only technical alternative is to fit ships with sulphur scrubbing abatement technology but, after years of trials and development, it is still not proven that scrubbers can reduce sulphur emissions by the required amount.
"Fitting theses scrubbers to existing ships can cause problems of stability. Therefore, they do not represent a realistic alternative to low sulphur fuel by 2015."
New technology
The UK government is a signatory to the joint EU and International Maritime Organisation proposal which has provision for an exemption to be granted.
The ferry industry, including other operators like P&O Ferries, Stena Lines and DFDS, is seeking exemption until 2020.
Brittany Ferries claims by then alternative fuels, such as LNG, could well be feasible and new technology to reduce sulphur emissions can be implemented.
A spokesman at the Department for Transport said: "Last month, Transport Minister Stephen Hammond MP met with stakeholders from the industry to discuss the way forward on sulphur.
"Following this, we are now looking at ways of helping the industries to meet the regulatory requirements."