Facebook campaign to entice teachers to Kent criticised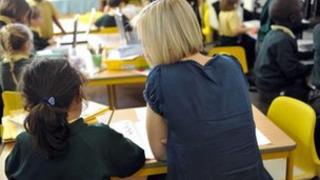 Unions have criticised a Facebook campaign aimed at enticing teachers to Kent from nearby counties.
Its county council suggests teachers could benefit from "deer spotting" and "fresh oysters" if they moved.
Robert Wilkinson, from the National Union of Teachers (NUT) in Berkshire - one of the areas being targeted - said it could be "robbed" of talent.
Steve Wood, in charge of recruitment in Kent, said the appeal was aimed at teachers who were considering a move.
The council's Your Perfect Kent Day initiative is targeting the nearby counties of Hampshire, Berkshire, Buckinghamshire, East and West Sussex, and Surrey - as well other parts of the UK.
'Substantial loss'
It is aimed at "high flying teachers looking to 'export' their skills and knowledge to the county, in return for continued career progression".
Kent also needs more "experienced male and head teachers as well as specialists in art, languages, English, maths, chemistry and biology".
Mr Wood said there were many reasons for teachers to move to the county.
"We have a range of villages, we've got coastal towns, vibrant urban communities and of course we are the Garden of England," he said.
Samantha Vandersteen, recruitment marketing officer at Kent County Council, said: "Kent is tackling the shortfall in experienced teachers head-on with an innovative campaign designed to get teachers from across the UK to think again about Kent.
"We want teachers to imagine living and working in Kent, and then turn the dream into a reality."
'Moving costs'
Mr Wilkinson, from Wokingham's NUT branch, said: "Individuals may go there and if we lose them, having trained them, then that really is a substantial loss to the authorities in Berkshire.
"If we are to compete with this kind of initiative from Kent... the six local authorities would need to get together and mount a recruitment campaign to the benefit of all six of us."
But Paul Watkins, the West Berkshire representative for the National Association Of Schoolmasters And Union Of Women Teachers, said he would not be tempted to move.
He added: "The job would be no better and you'd also have the costs involved with actually making a move to Kent.
"You'd actually absorb a lot of costs and the incentive for doing it is minimal."