MP Stephen Gilbert refers regional NHS pay to OFT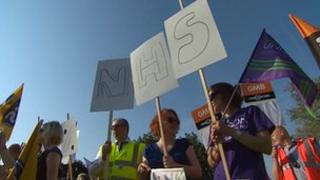 A Cornish MP has asked the Office of Fair Trading (OFT) to investigate whether the Royal Cornwall Hospitals NHS Trust has broken any NHS rules by supporting regional pay proposals.
The trust is one of 19 in the South West Pay Consortium.
St Austell and Newquay Liberal Democrat Stephen Gilbert said the group was "riding roughshod" over pay.
Some staff and unions said they believed regional pay could lead to salary cuts and loss of benefits.
The government is considering introducing regional pay for public sector workers as it believes salaries in some regions are higher than the true market rate and so the private sector struggles to compete for staff.
'Salary cuts'
Bringing in regional pay in south-west England was suggested in a leaked document from the consortium in June, and would replace the current NHS national pay bargaining model.
But staff and members of unions - including Unison and the GMB - said they believed it would lead to salary cuts of up to 20%, as well as affecting holiday and sickness benefits.
Members have staged protests against it.
Mr Gilbert said members of the consortium were "hiding behind the NHS badge while riding roughshod over national NHS pay and conditions".
He said: "These NHS trusts do not have public, patient or political support for the efforts they are making to bully staff into accepting reduced terms and conditions."
The Royal Cornwall Hospitals NHS Trust declined to comment.
The consortium is due to report back on its findings at the end of the year.
If the regional pay model is approved, the south west of England could be among the first areas in the country to have it introduced.
One NHS trust has withdrawn from the consortium.
Exeter Labour MP Ben Bradshaw said on Twitter that the Royal Bournemouth and Christchurch Hospitals NHS Foundation Trust had withdrawn from the pay group, due to progress at national talks.
He added he believed that other trusts involved should do same.
Unison said it "applauded" the Bournemouth and Christchurch trust's decision.
It added that it hoped other trusts "will also review their involvement in the consortium".