Speeding fines in Avon and Somerset fell by 70% last year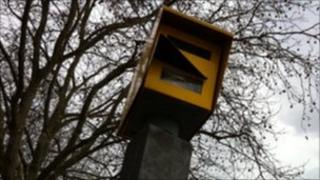 There has been a 70% drop in the number of speeding drivers prosecuted across the Avon and Somerset area since cameras were turned off in March 2011.
A BBC Radio Bristol investigation found 160,000 people were prosecuted between April 2010 and March 2011. It fell to 45,000 from April 2011 to March 2012.
Avon and Somerset Police said education programmes were recognised as the best way of influencing driver behaviour.
Safety charity Brake said there was no longer an "incentive not to speed".
According to the Department for Transport, there were 312 people killed or seriously injured in crashes on Avon's roads in 2010. In Somerset, there were 238.
That number fell to 258 in 2011 across Avon; 224 for Somerset. Figures for 2012 have not yet been published.
'Flexible approach'
Supt Ian Smith, from Avon and Somerset's road policing unit, said the force had found a new education provider and re-established the speed reinforcement programme.
"We are focusing on a flexible approach using the speed mobile vans. We maintain a clear commitment to preventing excess speed," he added.
Frankie Hackett, from Brake, said she was worried about going back to "the bad old days".
"People no longer have an incentive not to speed and people don't learn how dangerous speeding is," she added.
"The worse case scenario for us is that... we go back to the bad old days of seeing large numbers of people speeding.
"Large numbers of people taking risks and large numbers of people, even more than now, being killed or seriously injured."
Fixed speed cameras across the Avon and Somerset area were switched off in March 2011.
The area's safety camera partnership, made up of the local councils and the police, was disbanded as a result. Digital cameras also stopped working that month.
Bob Bull, Avon and Somerset co-ordinator for the Association of British Drivers, said speed cameras were a poor system.
"I'm really pleased that they have woken up to the facts," he said.
"In the year to 2012 nationally there has been a 6% drop in the numbers killed [on the roads] - a 3% drop in the number of casualties.
"Cameras never did anything. Education, which is what the police are using in this area, is the way forward. Speed cameras don't do anything."