Margaret Moran expenses trial: Jury considers verdict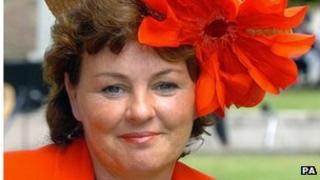 A jury has retired in the trial of an ex-Labour MP accused of receiving £53,000 in false expense claims.
Margaret Moran, former MP for Luton South, is accused of 15 counts of false accounting and six counts of using a false instrument over the claims.
It is alleged Mrs Moran claimed £22,500 to treat dry rot at her Southampton home, but spent it on "home improvements".
She is being tried in her absence, at London's Southwark Crown Court.
The 57-year-old, who served as Luton South MP between 1997 and 2010, was deemed unfit to stand trial due to mental health issues.
'Flipped her homes'
Therefore, rather than finding her guilty, jurors have instead to decide whether Mrs Moran actually committed the offences with which she is charged.
The prosecution has told the court she "abused the scheme", going as far as to re-submit expenses claims with different descriptions and supportive invoices, if they were initially rejected by parliamentary authorities.
Mrs Moran, of Ivy Road, St Denys, Southampton, is accused of falsely claiming about £60,000 in parliamentary expenses between 2004 and 2008, of which she received £53,000.
The court heard she was able to make the dry rot claim by "flipping" her two homes - changing which property was her second home and therefore allowing her to claim expenses on it.
'Claimed for cards'
She also allegedly changed dates on invoices for the work so that money would be paid.
One invoice - for £14,805 - was apparently for boiler repairs and work on her conservatory in her constituency home in Luton, when it was actually spent on her house in Southampton, the court heard.
Mrs Moran also tried to claim £47 for printing 50 Christmas cards, but was told greetings cards were not covered by Parliamentary expenses, the court heard.
James Sturman QC, defending, said the case represented "a very, very unhappy period for British democracy". Mrs Moran is the final MP to face criminal charges following the expenses scandal.