North East football agent linked to failed Belgian club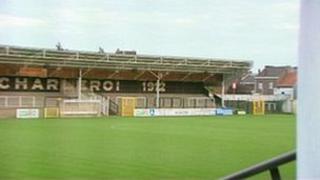 There are some places where reputations can be quickly made… and lost just as easily.
Charleroi in Belgium is just such a town.
As in the UK, for many working class industrial communities in the grip of hard times, football is a release, a passion, verging on a religion.
That could equally describe Newcastle, Sunderland, Middlesbrough or Carlisle.
However, this Belgian town south of Brussels has not one, but two football teams within its city limits. Loyalties are torn, rivalry all the more acute.
Sporting Charleroi is in the top flight and doing well, Olympic Charleroi is in the fourth division and on its knees.
What they have in common is a North East footballer, turned agent, who in their eyes went from hero to zero.
Peter Harrison was a lower league player in England but in the mid 80's he had a spell on the pitch alongside Philippe Albert with Sporting Charleroi.
His career developed as he went on to manage Blyth Spartans and then acted as agent for the likes of Andy Carroll.
New hope
He was so fondly remembered from those Sporting days that when in 2010 he re-emerged as the man fronting the deal to buy the city's other club and rescue it from the doldrums, he was welcomed with open arms.
Harrison gave a press conference on Belgian TV outlining the plans to get the club back into the first division.
On tonight's Inside Out we investigate whether Harrison broke FIFA rules - which forbids football agents from owning or having an official role in a club, as there would be a clear conflict of interest.
While filming at the rather run down Olympic Charleroi stadium I bumped into the grounds man who was busy washing the team's kit ready for the next game.
He was a veteran at the club which at one time graced the country's first division.
He had no idea why we were there, but when he heard we were from British TV he launched, unprompted, into a rant about Mr Harrison and how he had been unpaid for many months.
Peter Harrison denies he was ever anything more than an "ambassador" for the club or made any money from it.
That might be a surprise to club officials, former players and debtors of the club that I met.
They had all been under the impression he had been the main man and it was to him they were looking for recompense.
Olympic players and staff had seen their wages stopped, restaurant and hotel managers had not been paid.
The club had ended up in liquidation with debts topping 700,000 euros.
Mr Harrison wouldn't be interviewed and didn't speak when I caught up with him last week.
In a statement he was adamant that he had not had any official role with the Belgian club.
Stadium's better days
You cannot but feel sorry for Olympic and its fans.
The old stands in the stadium have seen better times. The scoreboard needs repair, weather beaten yet hopeful of declaring a victory for the home team at the next fixture.
It really is dark days for the club as the floodlight pylons have been amputated.
The ground feels rather hemmed in, surrounded as it is by housing in a city suburb.
Contrast that with the stadium of rivals Sporting Charleroi, whose multi-tiered stands tower above their city centre neighbours. A glossy club shop is testimony to success on and off the pitch.
The die-hard fans at Olympic should be celebrating their centenary this year but can only look on with envy.
They'll need dogged determination to get back to the top flight again.
Appropriately their nickname is "Les Dogues", symbolised by a bulldog, probably not a British one.
Find out more about this story on Inside Out North East and Cumbria on BBC One at 19:30 GMT on Monday, 12 November, 2012.