Woman's pain over Philip Cooper's horse death scam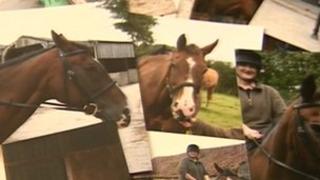 "He was a part of our family and we can't get him back now. It's appalling."
For horse owner Sharon Widdows, all she wanted was for her beloved horse Otto to be treated with respect when he died.
"I was assured that my horse would be treated with dignity. I was told he would be taken to Badminton to be individually cremated. So, I said my goodbyes and left feeling quite comfortable that my wishes were being carried out."
But that did not happen.
Instead, Philip Cooper had sent Otto to Exeter where he had him rendered with other animals.
Cooper, 69, from Chilcompton, near Bath, was fined £53,000 by Gloucester Crown Court on Friday after he admitted fraud by false representation.
He had charged owners £550 each for individual cremation services but was instead rendering the horses for £40 and keeping the profits.
It is the second time Cooper has been sentenced for the crime. In 2011 he was convicted of defrauding five women and was fined £29,000.
The publicity from that trial led to other victims coming forward.
Dog casket
Ms Widdows was one of his victims in the first trial.
She said after handing Otto to her vets, she realised something was wrong as it took so long for the ashes to come back.
As she is a vet, she knew the process should take 10 days. After ringing around different places to find out where Otto had been sent to, she found out he had gone to Exeter.
She became suspicious when she realised there were no crematoriums in the city, only rendering plants.
It was then that she found out that he had been sent to Cooper.
"I actually spoke to him myself. He was very aggressive to me and told me that he had cremated my horse. I contacted the vets again and they said they were waiting for a certificate but one didn't come, so I contacted trading standards."
When Ms Widdows was given Otto's ashes, she automatically thought the box was too small.
"It looked more like the size of a small dog casket rather than a horse," she said.
"When trading standards actually took on the case they tested the ashes and found out that it was horse remains but it wasn't my horse.
"Obviously I was very upset at the time, devastated. I'd paid for a service and I asked the vets to do a service that they should have done. I feel that they've let me down terribly and not done what they promised. It's very upsetting."
Cooper got his business from Bushy Equine Services, which gave him the horses to be cremated.
Ian Cam, of Bushy Equine Services, apologised and said: "We trusted him, we wouldn't have used him had we not.
"He turned up, acted professional in what is a distressing time for clients... we believed he was doing a good job for us.
"We were devastated for them and for us. He had let us down and we'd let our clients down. We thought a good professional service was being done, but we were defrauded like they were."