Daniel Sonnex cleared of threatening prison officer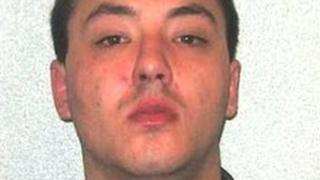 A man who murdered two French students has been acquitted of threatening to kill one of his prison officers.
Daniel Sonnex, 27, had admitted attacking guard Richard Stringfellow, but denied falsely imprisoning him making threats to kill.
At Reading Crown Court Sonnex was acquitted of the two charges.
At the time of the attack he was serving time at HMP Long Lartin in Worcestershire for killing Laurent Bonomo and Gabriel Ferez in June 2008.
Earlier in the trial, the court was told Sonnex jumped on Richard Stringfellow's back and held a vegetable knife to his throat in the attack at the jail in June 2010.
Two years earlier - in June 2008 - Sonnex tortured and killed Laurent Bonomo and Gabriel Ferez in their south-east London flat, stabbing them more than 200 times.
He was sentenced to life for the double murder, with a minimum tariff of 40 years.
Sonnex, formerly of Deptford, south-east London, is now being held at high-security psychiatric hospital Broadmoor, the court was told.