Philip Cooper fined £53,000 for horse cremation scam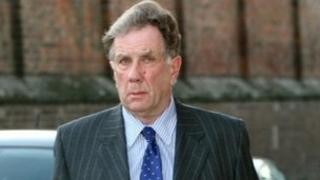 A man who admitted to cheating grieving horse owners by pretending to have their animals cremated has been ordered to pay more than £50,000.
Philip Cooper, 69 from Chilcompton, near Bath, had charged owners £550 each for individual cremation services.
Gloucester Crown Court heard he was instead rendering the horses for £40 and keeping the profits.
Judge Jamie Tabor QC sentenced him to eight months in prison, suspended for two years.
It is the second time Cooper has been sentenced for this crime. In 2011 he was convicted of defrauding five women and was then fined £29,000.
'Treated with respect'
As a result of that case, another 26 victims came forward.
Cooper has now been sentenced to four more charges of fraud by false representation.
Judge Tabor ordered him to pay £1,000 compensation to each of his new victims as well as a further £27,000 in fines and costs.
He also ordered Cooper, who has now retired, to be electronically tagged for three months between 08:00 and 18:00 each day so that he could "think about what he'd done".
Eddie Coventry, head of Gloucestershire County Council Trading Standards, which brought the prosecution, said: "Mr Cooper's practices took advantage of vulnerable people at a time of loss and grieving for financial gain.
"He had an opportunity to set the record straight at the time of the first hearing but chose not to.
"We felt this was a particularly nasty fraud which was appropriate for us to revisit when new information came to light."
Sharon Widdows, who was a victim in the initial court case, said: "I'm a huge animal lover and I just wanted that for my horse.
"I didn't actually want him to just be carted off. I actually wanted him to be treated with some respect and I wanted an individual cremation."
She added: "I can't really say what I think of Philip Cooper. I think it's appalling."