Police pensions petition could spark Commons debate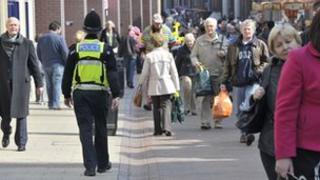 A Suffolk sergeant's petition opposing changes to police pensions has secured its target of 100,000 signatures.
Sgt Nigel Tompsett started an e-petition a year ago campaigning against changes to pensions outlined by the government in September.
The petition means the issue could be selected for a parliamentary debate.
The Home Office said the review of police pensions was in line with other public sector workers and the changes would be introduced in 2015.
Under the government proposals, the police would pay a larger proportion of their income into their pension scheme and get smaller pay-outs based on average career salaries rather than final salaries.
Rather than retire after 30 years of service, the normal retirement age would be at 60.
'Desperate straits'
Sgt Tompsett called the pension reforms "unfair and unjust".
He said: "Many officers have contacted me in desperate straits because they think they're going to be losing thousands, their plans have been thrown into complete disarray and it's caused a lot of stress.
"The public don't expect an older person to turn up in an emergency - it is a job for younger people and we need to be able to retire at a younger age.
"We're asking the government to apply the changes to new recruits only and not to existing serving officers."
A Home Office spokesperson said: "Pension reform is happening across the public sector and there is no justification to exempt police officers when soldiers, teachers and NHS staff will also see changes.
"Officers will continue to retire earlier than most public servants with one of the best pensions available.
"We worked hard with the Police Negotiating Board to agree a fair package reflecting the front-line nature of police work and protecting those closest to retirement."
The Police Federation, the staff association for lower rank police officers, said it was working with Sgt Tompsett to find an MP who would sponsor a debate.
The decision on whether there is time for the debate will be made by the House of Commons backbench business committee of MPs.