DUP concern over ex-agents after BBC 'IRA-supergrass' probe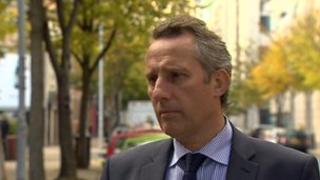 Pressure is being put on the government to look into what support is given to former agents who infiltrated the IRA.
Eight Democratic Unionist Party (DUP) MPs have written to the Northern Ireland secretary and said a number of agents were not given adequate support.
The letter follows a report by BBC South East on Raymond Gilmour who said he was abandoned by MI5 after becoming an IRA "supergrass".
The Northern Ireland Office has not yet commented on the MPs' letter.
The DUP members said they would raise the issue at a scheduled meeting with Theresa Villiers on 5 December.
In a letter to Ms Villiers, the MPs said they had concerns about "the lack of support provided to former agents who had infiltrated the IRA and other terrorist organisations on behalf of the Royal Ulster Constabulary and the security services".
'Dangerous work'
They wrote: "We are aware that a number of these agents have been relocated to Great Britain but it appears they have simply been abandoned without any significant financial support.
"We recognise that the dangerous work that they undertook on behalf of the state saved many lives and therefore it is our view that the state should offer them a greater level of support."
The letter was signed by Nigel Dodds, Jeffrey Donaldson, Gregory Campbell, William McCrea, Sammy Wilson, David Simpson, Ian Paisley Junior and Jim Shannon.
In October, Mr Gilmour told the BBC he had been left with mental health problems and lived in constant fear of being killed.
The "supergrass" was the only witness in a trial of 35 IRA suspects which collapsed in 1984 when the then Lord Chief Justice dismissed his evidence as being "unworthy of belief".
False identity
After Mr Gilmour's testimony, graffiti appeared around Londonderry saying he would "be got, sooner or later".
Mr Gilmour, who is from Derry and now lives in the South East, has lived under a false identity for 30 years.
He said he was promised £500,000, a new home, psychiatric support and a pension by MI5, but was provided with modest accommodation and £600 a month for three years and was not given employment.
Mr Gilmour said his false identity did not stand up to scrutiny, he suffered alcoholism and post-traumatic stress disorder because of his work, and was left destitute.
He is taking his case to the Investigatory Powers Tribunal (IPT) - a body which examines complaints against the intelligence services.
In October, the Northern Ireland Office said it could not comment on any individual, but anyone with a complaint about the intelligence services could go to the IPT.
The IPT said it would never confirm or deny whether it had received a complaint.
Former Sinn Fein publicity director Danny Morrison said: "There will be no love lost for him, no sympathy for him and it doesn't come unexpected that when MI5 are finished with people they discard them."