Maritime and Coastguard Agency's Monaco trip criticised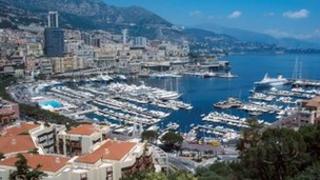 Maritime officials have been criticised for spending almost £20,000 sending four people to an annual boat show in Monaco during a period of cuts.
A Freedom of Information request found the Maritime and Coastguard Agency paid for the Monaco Yacht Show trip with one employee flying business class.
The agency said it was an "essential" event that helped generate income.
The Taxpayers' Alliance criticised the decision to spend money on "expensive trips to swanky destinations".
French Riviera hotel
Matthew Sinclair, chief executive of the TaxPayers' Alliance, said: "Given that cuts are being made to the coastguard budget, spending so much money on a trip to Monaco will infuriate taxpayers.
"Officials also need to explain why so much was spent on a business class flight in particular.
"Bosses need to ensure that as much money is focused on frontline services as possible, and expensive trips to swanky destinations seriously harm their moral authority to make tough budgetary decisions."
The FOI request from the BBC found three staff from Hampshire and one from Tyneside stayed in the Carlton 4* hotel on the French Riviera.
The annual show brings together professionals from the yachting sector for networking and conferences.
A Public and Commercial Services Union spokesman said the agency should instead be spending money on a "properly-staffed and resourced coastguard service".
'Expensive location'
A spokesman for the agency said it attended the yacht show to launch the latest edition of the Large Yacht Code, a sailing code of practice for large vessels.
He said the majority of the cost was spent on a display at the show.
"One person travelled business class - justified on the grounds of the overall journey time," he added.
"As regards the hotel, the choice and cost is not regarded as excessive when compared with other hotels in the Monaco area, which is an expensive location."
The spokesman said the event generated business for an advice service it provides to yacht owners, which last year raised £1.3m.
"Attendance at this event was considered essential to maintain our market position and therefore sustain, and if possible increase this level of income, which both benefits the taxpayer and reduces the running costs of the agency," he said.
Eight local coastguard stations across the UK have been cut as a result of a restructuring programme with a loss of 159 jobs.
The co-ordination centres at Forth, Clyde, Great Yarmouth, Liverpool, Thames, Swansea, Brixham and Portland will all close by March 2015 - although some limited functions, such as radio masts, will remain at Liverpool, Swansea and Thames.