Gurkhas killed in Afghanistan flown back to UK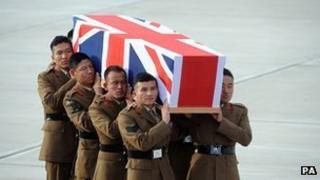 The bodies of two Gurkhas shot dead in Afghanistan by a man wearing an Afghan police uniform have been returned home.
Lt Edward Drummond-Baxter and L/Cpl Siddhanta Kunwar, of the 1st Battalion the Royal Gurkha Rifles, died at a checkpoint on 30 October.
They were on patrol in the Nahr-e Saraj district of Helmand province when they were killed.
Lt Drummond-Baxter, 29, was born in Cambridgeshire and lived in County Durham, and L/Cpl Kunwar, 28, in Nepal.
Their union jack-draped coffins were flown into RAF Brize Norton in Oxfordshire.
Private ceremonies for their families were held on the air base before the cortege made its way to the John Radcliffe Hospital in Oxford.
The soldiers, who were attached to 40 Commando Royal Marines were attending a meeting with Afghan uniformed policemen when one of them opened fire, the MoD said.
Lt Drummond-Baxter, who was born in Peterborough, was on his first tour of Afghanistan.
His family issued a statement saying: "Edward was fiercely loyal and totally sincere to his parents, sister and many friends who are mourning him today.
"He loved the Gurkhas and died among friends doing the job that he wanted to do."
Lt Col David Robinson, commanding officer of the 1st Battalion The Royal Gurkha Rifles, described him as an "inspirational leader".
L/Cpl Kunwar deployed to Afghanistan on 3 October as a sniper section commander.
His father Shyam Kumar Kunwar said: "We are deeply shocked, disheartened and in disbelief that Siddhanta is no longer with us.
"But we shall treasure all the good things he did. He enjoyed immensely his profession and was fully committed towards it."
The toll of 11 British servicemen killed by Afghan soldiers or police this year compares with one last year, three in 2010, and five in 2009.