I'm not EastEnders' Dirty Den: Health boss Aidan Thomas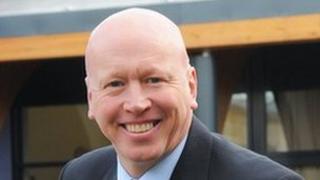 A mental health boss has emailed staff he is "not like Dirty Den from EastEnders", in a bid to quell "malicious" rumours.
Norfolk and Suffolk Foundation Trust chief executive Aidan Thomas described the rumours as "unfair and hurtful".
He said he had decided to comment after a number of allegations were made.
"Some of the stories I have heard have been quite entertaining and have cast me in a role more akin to EastEnders," Mr Thomas said.
It is thought the rumours related to the chief executive's private life.
The health trust, which employs nearly 4,000 staff, said it would not be commenting on the nature of the rumours and allegations made about Mr Thomas.
Mr Thomas, previously chief executive at the West Essex Primary Care Trust, said although he initially wanted to ignore the rumours they had continued and were "very unfair and hurtful" to other staff mentioned and his family.
'Happily married'
In his email to staff he wrote: "You may or may not have heard of some rather interesting allegations made against me, and I just wanted to put the record straight.
"Can I say from the start that some of the stories I have heard have been quite entertaining and have cast me in a role more akin to EastEnders than to running an NHS trust.
"However, unlike Den Watts, my life is a bit more mundane than you might think," he said. "I've been happily married to my wife Sarah for 24 years and... we have two fantastic children who I think the world of.
"Sarah and I have just come back from a week's trip to Paris and are now planning our family Christmas with our son and daughter."
He told colleagues the distance between Essex and Norwich meant he rented a room in the doctors' accommodation at the Julian Hospital rather than travel cross county when he worked late.
"Sorry to disappoint those whose minds run wild about what I might be getting up to while I'm away from home - I'm generally on the phone to my wife Sarah, answering emails or reading meeting papers.
"Sometimes my fellow executive team members take pity on me and we go out for a curry or comedy night, but for the most part it's just plain boring.
"Earlier this year, we went to the Cromer End of the Pier show, and believe me that's been pretty much the highlight of my overnight stays."
Speaking after sending the email, Mr Thomas, who earns a salary of about £140,000, said: "I have been overwhelmed with scores of comments from colleagues who appreciate the stand I am making."