Surrey to provide Horley fire coverage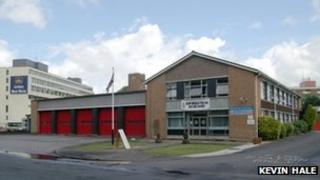 A fire station currently run by the West Sussex fire service (WSFRS), which has to save £2.5m from its budget next year, is to be taken over by Surrey.
The future of Horley fire station had been uncertain after WSFRS said its engine and crew would move to Horsham.
Kay Hammond, Surrey County Council's cabinet member for community safety, said she was confident residents would see no change in fire provision.
"We will have a fire appliance down there to keep Horley residents safe."
Ms Hammond added: "We are absolutely confident because we have a plan in place already - a public safety plan - which has committed response standards and we are absolutely committed to that."
The changes will take effect from 1 April next year.
WSFRS took the decision to move its fire appliance and crews from Horley to merge with colleagues at Horsham following a public consultation in July.
'Used to be in Surrey'
It said the fire engine at Horley would be relocated to Horsham to improve the fire service's response in the north and central areas of West Sussex.
The West Sussex FRS Technical Rescue Unit, whose team members respond to incidents in the UK or overseas, will still be based at Horley.
The service has to save £2.5m in 2013 as part of the wider £79m that has to be saved by the county council.
Horley fire station is located just within the West Sussex county border although the majority of the calls it received in 2011-12 were into Surrey, according to WSFRS.
Surrey has paid WSFRS to respond to emergencies in the Horley area because it can often get there quicker.
Ms Hammond said discussions were ongoing about taking the station over.
"It used to be in Surrey anyway - it's only boundary changes that changed it.
"We've had a very, very good deal from West Sussex for many years with them supporting Surrey over the border," she said.