Northumbria PCC candidates in experience debate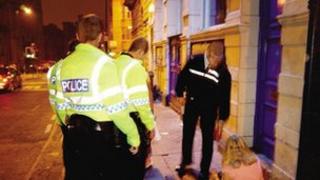 "He was only two ranks above a constable - he was seven below the chief constable."
This put down has ignited the argument over who is best suited to be police and crime commissioner for Northumbria: a politician or a former policeman.
The remark was made during a TV debate on BBC One by Labour's candidate for the job, Vera Baird.
It was directed towards the Conservative candidate and former inspector Phil Butler.
Ms Baird's choice of words were criticised by Liberal Democrat candidate Peter Andras and UKIP's Alistair Baxter.
The former MP and solicitor general in the last Labour government was asked to defend herself during a debate on BBC Newcastle on Thursday.
She admitted she had used "a bad turn of phrase", but claimed the public were behind her.
Ms Baird said Mr Butler had never been a "senior officer".
She said: "We're not talking here about policing on a beat, what we're talking about is strategy, a multi million pound organisation, and an inspector is on the first rank, the first junior rank of management."
Ms Baird also claimed to have received a letter from a recently retired chief superintendent supporting her view that someone who had only reached the rank of inspector would not have any real knowledge of how a force was run, because this would be "above their heads".
But she denied accusations that her remarks showed a lack of respect for police officers in general.
"I am a huge supporter of police, a huge supporter of PCSOs (police community support officers) as I have said, and there is absolutely everything to be said for being a good police inspector.
'Shocked and appalled'
"It's an excellent job, but the trouble is the literature and the approach that the Tory candidate has taken in this has been to pretend he's more than he is", Ms Baird said.
Mr Butler said he was "shocked and appalled" by his rival's comments.
"I think it shows a lack of respect for not just the officers of whatever rank but the people who are actually in public service," he said.
Mr Butler insisted he had been involved in strategic matters, and that his time in the police force was "invaluable" experience for the role of commissioner.
He said: "Having been in the police for 30 years, and worked with victims of crime and walked the beat I know exactly the demands that are placed on the police, I know exactly how to get the best out of the police."
Mr Andras said Ms Baird's remarks were "impolite" and indicated a lack of respect for rank and file police officer.
He added that she had chosen her words badly.
He said: "It is a really bad way of communicating about police officers and generally about junior rank people.
"Most of the people who work are working in junior ranks and we should give them respect."
Mr Baxter said he was "very, very disappointed in the repeated mudslinging" between his fellow candidates.
He said Westminster was full of people "throwing custard tarts" at one another and people were sick of "this kind of politics".
"What I want to do is to be talking about customer service training for the police", he said.