Durham PCC: Hopefuls clash over anti-social behaviour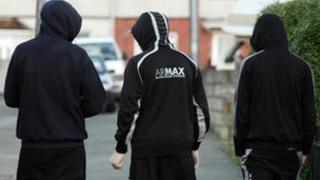 Candidates battling to become Durham's first police and crime commissioner (PCC) have expressed concerns about the use of private security firms to tackle anti-social behaviour.
Some people living in Darlington pay up to £3.50 per week for guards to "patrol" their streets.
Labour's Ron Hogg said he was worried about the accountability of such firms.
UKIP's Mike Costello said residents paid less towards policing via council tax.
He said the weekly council tax policing precept was less than £1.
"If they were prepared to pay £3.50 we could more than treble the amount of funding to our police force," he said.
Deterrent needed
During a debate between the candidates on BBC Radio Tees, Sparta Security owner Francis Jones claimed more families were contacting the business for protection.
Mr Jones said there was real concern over anti-social behaviour.
"I think in Darlington, and all over England, there's only one kind really and that's annoying behaviour by youths or anyone trying to exploit homeowners," he sauid.
"There needs to be a deterrent introduced. The way society is going with police numbers coming down all over England, private security will start to patrol these streets."
But Mr Hogg does not believe residents should be relying on such services.
The Labour candidate said he would fight further cuts to the force's budget, but Conservative Nick Varley said the country had been left "bankrupt" in 2010.
Mr Varley also clashed with Independent Kingsley Smith over financial backing he was receiving for his campaign.
Mr Smith said he had paid the £5,000 deposit himself and was being supported by "six or seven" close friends who had each donated "£3,000 or £4,000" each.
Candidates are obliged to declare all spending and donations after the election on 15 November, but Mr Varley said there was a lack of transparency and called for his rival to identify the "mysterious electioneers".
'Honest people'
Mr Smith, a former chief executive of Durham County Council, said those supporting him expected nothing in return.
He said: "As an Independent candidate it is absolutely essential that you can get your message out to the public so they know what you stand for.
"My campaign is being funded by friends of mine that have no axe to grind. These are very honest people of great integrity and they want nothing from me at all."
PCCs will replace police authorities which are currently in charge of 41 forces in England and Wales.
They will be responsible for setting priorities for their police force, overseeing its budget and hiring the chief constable.