Michelle Ping and Lord Coe honoured at Yorkshire Awards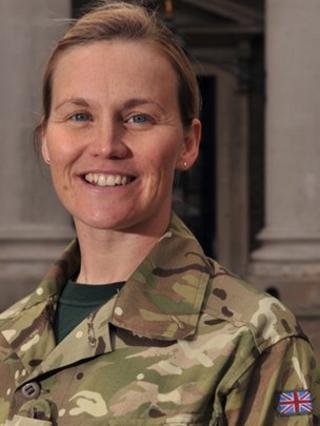 A Royal Navy reservist from Sheffield has been named Yorkshire Awards Woman of the Year for an act of bravery under enemy fire in Afghanistan.
Air Engineer Michelle Ping was on patrol as a paramedic in Helmand in July 2011 when she saved a colleague who had been shot in the head.
Head of the Olympic Games, Sheffield's Lord Coe, was named Man of the Year.
Yorkshire Olympians and community worker Sam Oldroyd from Kiveton Park were also honoured at the event.
Michelle Ping was mentioned in despatches for her "calm, selfless actions" after coming to the aid of a soldier who had been shot while out on patrol in Afghanistan.
She jumped on to the roof of a building where the soldier was injured and lay on top of him to protect him, despite insurgents still firing at the pair.
She paid tribute to her colleagues who were with her and "despite having to shout at them to get them organised" said she "could not have done any of this without them".
Former athlete Lord Coe, also from Sheffield, was named Man of the Year at the awards ceremony at the Hilton Hotel in Leeds.
Jade honoured
Lord Coe was this week elected unopposed as chairman of the British Olympic Association after the withdrawal of the only other candidate, British hockey boss Richard Leman.
Lord Coe, himself a double Olympic champion at 1500m in the 1980 and 1984 Games, led London's successful bid for the 2012 Olympics and was subsequently made chairman of the Games organiser Locog.
The county's Olympians and Paralympians collectively received the Sport Award for their achievements in both Games.
Sam Oldroyd, from Kiveton Park, Rotherham, was selected for the Community Hero Award.
He runs Jade (Just Another Dance Event) a youth-led social enterprise providing positive opportunities for 150 young people a week through music and performance.
The organisation works in more than 30 schools giving training which ranges from teaching music technology and DJ skills to anti-gang and anti-knife/gun programmes.
The world-renowned Grimethorpe Colliery Brass Band was selected for the Arts and Entertainment Award, a category sponsored by BBC Yorkshire.
Yorkshire playwright Jon Godber, from Wakefield, was honoured with the Lifetime Achievement Award.
His plays are among the most-performed in the English language and he has won numerous awards around the world, including eight LA Drama Critics Circle Awards, an Olivier Award and two Baftas.
A Special Award was made to Cyril Villiers, from Leeds, chief executive of SportsAid in Yorkshire.
His organisation provides financial support and recognition to talented young sportsmen and women at the start of their careers.
The Business of the Year Award was given to the Go Outdoors firm which originated in Sheffield but now has branches across the UK.