Thames Valley PCC elections: 'Balance of urban and rural needs'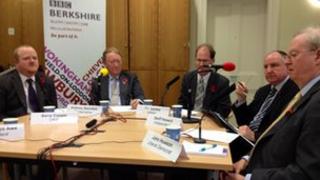 Candidates for the Thames Valley police and crime commissioner election believe responsibility for tackling urban and rural crime can be balanced.
The six standing in the election on 15 November took part in a BBC radio debate earlier at Henley Business College.
Balancing issues of rural and urban crime will be one of their challenges.
Thames Valley Police covers three counties and a population of 2.3 million people.
As well as serving towns and cities such as Slough, Reading and Oxford, Thames Valley Police also protects a vast rural area.
Independent candidate Geoff Howard, from Slough, highlighted how the role would be supported by a team of assistants.
He said: "That would allow me to spread the responsibilities. It's a massive job and there's no two ways about it.
"You need to be visible as much as possible. While I would obviously have head office in Kidlington, Oxfordshire, I would be making sure I get out on the road as much as possible."
'Stay on track'
Independent Patience Tayo Awe believed collaboration with local organisations was vital.
"Associations across the Thames Valley will provide that important link of identifying local policing priorities," she said.
"Initiating consultation and understanding people's requirements is key."
Conservative Anthony Stansfeld stressed that balancing the budget would be equally important.
He said: "Rural crime is still a major issue even if the population is lower there.
"A major issue right across the Thames Valley is the high rate of burglaries and while there's been a recent decline in metal thefts, we need to ensure targets stay on track."
Handing power back to local communities by establishing local police boards was Labour candidate Tim Starkey's proposal.
He said: "Having one person responsible for all of the Thames Valley will be a problem.
"Therefore, devolving power will be a good thing. This will differ from the current police authority as priorities should be identified better."
The only Oxfordshire-based candidate in the election was Liberal Democrat John Howson.
'Driving priorities'
He said: "The commissioner will be the publicly accountable face for dealing with crime and driving priorities.
"Forging communications and receiving crucial intelligence will be important in achieving that. It's going to be a challenge, but I feel it can work."
UKIP's Barry Cooper admitted the scale of the job would be daunting, but in practice it would be more than just "a one-man band".
He said: "You will inherit the current police authority staff and have a moderate budget for additional staff.
"A mechanism that builds on the existing knowledge of local policing priorities and how resources are best utilised will be crucial."
The candidates also faced questions during the debate on putting more police officers on the beat, tackling anti-social behaviour and supporting victims of crime.