Margaret Moran 'took £53,000 in false expenses'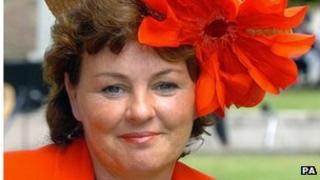 Former Luton MP Margaret Moran received £53,000 through false expenses claims, a court has heard.
The 57-year-old, of Ivy Road, St Denys, Southampton, is accused of 15 counts of false accounting.
The jury will also decide on six counts of using a false instrument over the claims for parliamentary expenses.
A Southwark Crown Court jury is hearing the case in Mrs Moran's absence as she was found unfit to stand trial due to mental health issues.
Rather than finding her guilty, jurors have to decide whether Moran did commit the acts alleged in the charges, and whether they amount to the offences with which she is charged.
Mr Justice Saunders told them: "It would be unfair for you to be able to find her guilty when she has had no opportunity to give her side of the story.
"Doctors have said to require her to attend court could have serious consequences for her physical health."
Prosecutor Peter Wright QC said claims made between 2004 and 2008 totalled about £60,000, and Mrs Moran received about £53,000 to which she was not entitled.
It is alleged the former Labour MP for Luton South, who stood down at the last election, "flipped" her designated second home, making claims for properties in London, Luton and Southampton.
One of the 21 charges relates to a claim for £22,500 to treat dry rot at her Southampton home.
Her health was affected when allegations about MPs' expenses claims came to light in 2010, the jury heard.
Mr Wright said: "Eventually her health deteriorated such that in April this year the court determined she was unfit to stand trial."
Birthday cards
He told the jury Mrs Moran, who had been an MP since 1997, was "entirely familiar with the [expenses] scheme".
"She was also, we say, entirely familiar with its constraints."
However, he alleged that she still proceeded with "dishonest" practices.
"She appears to have arranged for the taxpayer to foot the bill for repairs to which she was not entitled.
"Mrs Moran made, we say, a large number of false claims."
Mrs Moran "abused the scheme", going as far as to resubmit expenses claims with different descriptions and supportive invoices if they were initially rejected by parliamentary authorities.
She tried to claim £47 for printing 50 Christmas cards, but was told that greetings cards were not covered by parliamentary expenses, the court heard.
So she submitted a new invoice for the same amount, but this time for "printing services".
The same thing happened with a claim for birthday cards, which were later described as "surgery cards", it is alleged.
Mr Wright told the court that Mrs Moran's actions were dishonest and designed for her own gain.
The trial was adjourned until Monday.