Jimmy Savile's nephew Guy Marsden in exhumation call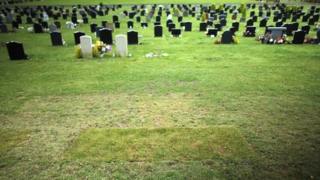 Jimmy Savile's body should be exhumed from a cemetery in Scarborough and cremated, a nephew of the DJ and broadcaster has said.
Guy Marsden said he "100%" supported families of other people buried at Woodlands Cemetery who have called for his uncle's body to be moved away.
Mr Marsden said no formal plans to exhume Savile had been made, but he would support them if they went ahead.
Police believe Savile could have abused as many as 300 people over 40 years.
'Private place'
"If it was one of mine who was buried there, I wouldn't like it if someone like Jimmy was in the same place," said Mr Marsden.
"At the end of the day, they say his grave can be exhumed and they can cremate Jimmy Savile and they can put him in a private place known only to the family," he said.
"But who'd want to visit him anyway? I wouldn't want to know."
Mr Marsden said many members of his family would say the same about Savile, who died last year aged 84.
At a Scarborough Borough Council meeting on Monday, Conservative councillor Colin Haddington called for Savile's body to be exhumed from its resting place.
One of his constituents, whose granddaughter is buried close to Savile, had suffered "a great deal of distress", he said.
Gravestone removed
Mr Haddington made the call during a meeting which voted to erase Savile's name from the list of Honorary Freemen of the Borough of Scarborough.
Council leaders said the decision to move the BBC presenter could only be made by Savile's family and said they had no current plans to exhume the body.
Permission is also needed from the Department of Justice before an exhumation can be carried out.
In October, Savile's gravestone was removed from Woodlands Cemetery.
His family said the headstone had been dismantled "out of respect to public opinion" following the revelations he had sexually abused girls and young women.
Police have described Savile as a "predatory sex offender" and are following 400 lines of inquiry.