Ash dieback chalara cases confirmed in Essex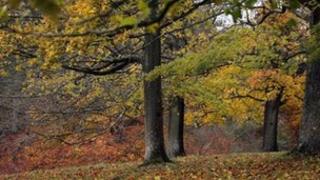 A case of ash dieback claimed by the Forestry Commission to be in Essex was in fact in Suffolk, the organisation has confirmed.
The Forestry Commission announced on Monday that the tree disease chalara had been found in woodland in Kent and Essex.
But the 'Essex' case cited was in fact the 119-acre ancient Arger Fen woodland in Suffolk.
However, two new cases have now been confirmed in Essex.
A spokesman for the commission said: "It does appear that there was an error made in identifying the county in which one site was located, and there were in fact no Essex sites confirmed on Monday."
Will Cranstoun, who is responsible for the Arger Fen site, said: "This site is almost unique in Suffolk as it has a large acre of naturally regenerating ash.
'Worrying time'
"It is that area which is infected and, if it is wiped out, it will fundamentally change this landscape for hundreds of years to come.
Some scientists warn the outbreak has the potential to devastate the UK's population of 80 million ash trees.
Dieback was first recorded in eastern Europe in 1992 and spread over two decades to infect most of the continent.
The first confirmed case in the UK was recorded at a nursery in Buckinghamshire back in March.
The two new Essex sites confirmed with the chalara fungus are in the Frinton and South Woodham Ferrers areas.
Mick Lavelle, senior lecturer in horticulture from Writtle College, said: "It is a worrying time, because of the potential of it. It is not just the loss of the trees but the loss of the trees for a generation."
He said names of villages in Essex such as Eight Ash Green were testament to the historic importance of ash trees to communities in the past.