Daniel Sonnex 'held knife to prison guard's throat'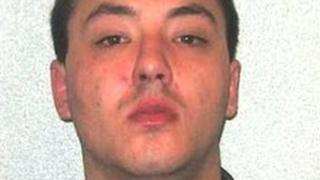 A man serving a life sentence for the murder of two French students jumped on one of his prison guards and held a knife to his throat, a court has heard.
Reading Crown Court was told Daniel Sonnex jumped on Richard Stringfellow's back and held a vegetable knife to his throat in June 2010.
The jury heard it happened at HMP Long Lartin, Worcestershire, where Sonnex was serving life for two murders.
Sonnex, 27, denies falsely imprisoning the guard and threatening to kill him.
The court was told how Sonnex, who had converted to Islam, started shouting, foaming at the mouth and chanting in Arabic when he was restrained by other prison officers after the attack on 19 June 2010.
The jury was told that two years earlier - in June 2008 - Sonnex tortured and stabbed to death Laurent Bonomo and Gabriel Ferez.
'Government scapegoat'
They were also told he was sentenced to life, with a minimum tariff of 40 years for the double murder.
Sonnex, formerly of Deptford, south-east London, is now being held at high-security psychiatric hospital Broadmoor, the jury also heard.
The court heard that Sonnex admitted jumping on Mr Stringfellow and holding the knife to his throat, but said he never intended to hurt him.
Under cross-examination, Sonnex said he attacked Mr Stringfellow because he believed French and British "agents" were trying to assassinate him.
He told the court he believed he was a "government scapegoat" being used "to cover up the murder of students who were about to expose the bird flu virus".
Sonnex told the court he had been building a "glider" using shelves from a prison fridge, coat hangers, a mattress and sheets from his cell so he "could fly from the rooftop over the wall of the prison establishment".
He said Mr Stringfellow discovered the glider and he feared he would be taken into the jail's segregation unit and killed.
Asked why he jumped on Mr Stringfellow's back, Sonnex said: "I was just thinking, 'I'm dead, he is going to kill me'."
Mr Stringfellow told the court he had felt someone jump on to his back and put their arms around his throat tightly.
He said: "The next thing I was aware of was something cold and hard being pressed against my throat."
He said Sonnex shouted "angrily" that he had a knife, swore and threatened to slit his throat.
Mr Stringfellow added: "I seriously believed that I was going to die that instant, if not then, then shortly after that."
The court was told fellow officers who went to the scene saw Sonnex foaming at the mouth.
Dr Quinton Deeley, honorary consultant psychiatrist, said Sonnex had a borderline low IQ and had a "complex personality disorder".
The trial continues.