Kate Stanton-Davies: Inquest into six-hour-old baby's death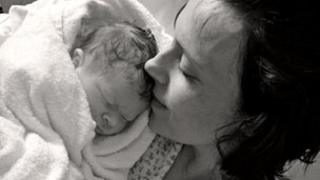 An inquest has begun into the death of a baby six hours after she was born.
The hearing in Bridgnorth will try to establish if Kate Stanton-Davies could have lived if care during pregnancy and after birth had been different.
Her parents told the inquest they became concerned when Kate became pale, floppy and cold after she was born in Ludlow Community Hospital in 2009.
The baby died despite being airlifted to a Birmingham hospital. The inquest is expected to last up to two weeks.
Ms Davies told the inquest she became frightened a month before she was due to deliver because the active baby that had been kicking and punching inside her had stopped moving.
Strange noises
South Shropshire Coroners' Court heard that Ms Davies went to Ludlow Community Hospital twice in February 2009 for heart traces.
The first time she was admitted to the Royal Shrewsbury Hospital, but later discharged. She was later admitted again after concerns about her health, but was discharged the day before she went into labour, the inquest heard.
The baby's father, Richard Stanton, told the inquest that after Kate was born on 1 March 2009 he and his wife became concerned because the baby was cold and had begun making strange noises.
Ms Davies told the inquest that about an hour and a half after Kate was born, the baby was due to be transferred by ambulance to the Royal Shrewsbury Hospital.
A decision was taken then to transfer her by air ambulance to Birmingham Children's Hospital.
Collapsed en route
While in the air the baby was diverted to Heartlands Hospital in Birmingham, the inquest was told.
The baby's parents told the inquest they were left behind in Ludlow because they were not a clinical priority for an ambulance.
The inquest heard how they decided to drive themselves to the hospital in Birmingham, but Ms Davies collapsed en route and an ambulance took her to Worcester.
Mr Stanton told the inquest he eventually reached Heartlands Hospital in time to hold his baby minutes before she died.
Ms Davies arrived an hour and a half after the baby's death, the inquest heard.
Pathologist Dr Phillip Cox told the inquest that a haemorrhage has occurred "at least a week" before Kate's birth, leaving her extremely anaemic.
This could have been corrected by a blood transfusion in the womb, Dr Cox told the court.
He gave the cause of death as brain damage caused by a severe lack of oxygen due to anaemia.
The inquest continues and is due to end on 16 November.