Police and crime commissioner elections: Alcohol crime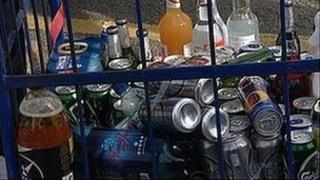 Alcohol-related incidents have been a concern for communities in Devon and Cornwall for some time.
BBC News has asked police and crime commissioner (PCC) candidates how they would tackle incidents and crimes linked to drinking.
Recent figures from Devon and Cornwall Police have shown that drink-driving incidents have risen.
Official figures from the force said there were 1,937 drink-driving incidents in the counties between July 2011 to June 2012, compared to 1,877 the previous year.
However, violence and injury whilst under the influence of alcohol or drugs saw a fall of more than 50% from, 9,395 incidents between July 2010 and June 2011, to 4,235 the following year.
'Shared approach'
The incoming PCC will have duties under the Police and Social Responsibility Act 2012 to consider using Early Morning Restriction Orders to stop businesses selling alcohol adding to problems an area may have.
They can also consider introducing a late-night levy on businesses to help cover costs for policing.
In July 2009, the Newquay Safe Partnership was set up after two teenagers died in the resort.
Police, residents, councils and businesses have since been working together to promote safety and minimise the risks to drunk people in the town.
The partnership has won numerous awards and it was praised by Home Office staff who visited the resort in 2010.
The following year, more than 4,000 under-18s visited Newquay over the summer, according to the partnership, and more than 6,000 bottles and cans of alcohol were confiscated or poured away by police.
'Drain on resources'
Independent candidate Ivan Jordan said the project set an example to the rest of the force area.
He said: "Newquay Safe leads the way in reducing alcohol-related crime with a shared approach involving the police, council and businesses, achieving £258,000 of cost-of-crime savings in one year.
"Alcohol dependency is a root cause of re-offending and we should extend the Cornish model of mental health workers in custody centres to tackle problems as soon as possible".
Liberal Democrat candidate Brian Blake added that it was not the "sole responsibility of the police" to deal with alcohol-related problems, and that "other agencies have a responsibility".
He said: "I take the view our policing taxes are being used in part to police the excesses of the few; enabling some businesses in the so-called night-time economy to make a profit and divert police resources away from other matters."
Brian Greenslade, an independent candidate, said: "Alcohol is a big drain on public resources.
"Policing this in places like Newquay and Plymouth is a priority."
Conservative candidate Tony Hogg said he approved of the government's polices on alcohol abuse and crime.
But he added: "I would focus on prevention and put victims first in deciding outcomes. I would work with Community Safety Partnerships on strategy, including priority communities.
"I support solutions in the community as a preference to prison if appropriate," he added.
Tam Macpherson, an independent candidate, said there was a need for a realignment of police resources.
"Officers on duty at the right times and in the right places, targeting the right locations, working within legislation, and partnership with community and business groups should alleviate the impact of alcohol-related violence."
'Zero tolerance'
William Morris, an independent candidate, said he would have a zero tolerance policy for areas which saw "an increase of alcohol-related crime and violence".
He said: "Zero tolerance will not overburden the courts because the police will make pre-charge community payback schemes an alternative to trial.
"I will also establish Britain's only detox centre for under-21s."
Graham Calderwood, an independent candidate, said he thought suspects should be shown a video of their drunken behaviour.
"We should reintroduce a system so that suspects with drink problems attend an agency.
"But this time they must really engage. Just one attendance is insufficient."
John Smith, an independent candidate, said this was another area for partnership working.
"We have good examples of successful work and will need to develop them to other towns."
Labour candidate Nicky Williams said she would "work with local Pubwatch Schemes and set up new ones, building on the example of the Newquay Safe Partnership that involves multiple agencies".
UK Independence Party candidate Bob Smith said: "This is a problem that will not go away but it needs to be dealt with and for consequences to follow.
"We need to deal with this problem on a long-term and sustainable basis."