Devon and Cornwall PCC elections: Domestic abuse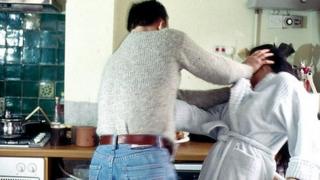 A domestic abuse victim is urging the police and crime commissioner candidates to prioritise funds and services to help those affected.
PCCs, as they will be known, will be responsible for setting priorities for their police force and overseeing its budget.
Vanessa, 33, from Cornwall, who was a victim of domestic abuse from her former partner, said: "I was very isolated and became a shadow of my former self.
"It was both emotional and physical abuse which escalated into a quite serious violent assault, which was how I left him because he was arrested."
Vanessa was visited by a domestic abuse police officer and referred to support organisations.
"The support was vital, I was really depressed but through the support network I started to rebuild my life," she said.
'Priority for hidden crimes'
Across Devon and Cornwall in 2010, there were a total of 24,585 reports to the police force of domestic violence.
The Women's Rape and Sexual Abuse Centre (WRSAC) in Cornwall, which supports more than 2,000 women a year, runs a helpline and support group for victims of domestic and sexual abuse.
Lizzie Matthews, from the charity, said more support was needed for victims.
She said: "It'll be very easy for commissioners to focus on crimes, like burglary, but we want to make sure the hidden crimes are a priority."
Under-reporting
In July, the Director of Public Prosecutions Keir Starmer said a woman would on average be assaulted 30 times before she sought help.
Conservative candidate Tony Hogg said: "I see the threat to victims and under-reporting of domestic abuse as a serious threat to social cohesions, health and wellbeing and police resources."
He added that he would work with the voluntary sector and partnerships to find funding solutions.
Devon and Cornwall Police has specifically trained domestic abuse officers to help victims.
Graham Calderwood, an independent candidate, said the specialist officers gave "exemplary support", but the force could not be "social workers forever".
He said: "After court, the voluntary specialist services must be relied upon unless new abuse occurs. We need to understand why so often the abused withdraw statements and speed up the whole court process."
Liberal Democrat candidate Brian Blake said: "I will urge the chief constable to retain the specialist domestic violence units and not subsume them into general policing."
He added that Domestic Violence Protection Orders, which can protect a victim following an attack, are important tools alongside the support voluntary organisations offer.
Tam Macpherson, an independent candidate, said: "Properly trained officers are hugely important and can reduce the amount of time actually devoted to dealing with such matters and with efficiency. Properly handled, this should reduce the incidence for repeat offences."
He added there had to be improved communication between the police and other agencies, particularly those dealing with such matters as drug, alcohol and sexual abuse.
UK Independence Party candidate Bob Smith said he would establish a working party on domestic violence comprising those who had experienced it and those who had researched it, as a first step towards improving the lives of those affected.
He added: "All crime is serious but domestic abuse is a crime that has particularly horrible and long lasting effects on the recipients of it and on the children caught up in it."
Spending cuts
Devon and Cornwall Police has an annual budget of about £255m and aims to cut £51m in spending over four years.
Brian Greenslade, an independent candidate, said he supported funding of domestic abuse and strongly opposed any cuts.
He said: "I will not cut funding for the voluntary sector and will organise a round table with the voluntary sector to agree what are the priorities for funding from the limited resources available."
Ivan Jordan, an independent candidate, said he was aware of what damage domestic violence could cause and considered the "hidden crime" a priority.
He added: "Domestic violence and abuse are complex issues, affecting both genders, we must work collaboratively with expert agencies, and all police and staff must be cognisant of the issues."
Labour candidate Nicky Williams said she would prioritise domestic abuse and said there had to be effective communication with local social and health services and community organisations so people could report their complaints and concerns.
She said: "Time and again we see how bad communication has let a situation escalate."
William Morris, an independent candidate, said all forms of domestic abuse would not be tolerated.
He said: "[It] will be dealt with severely by enforcing harassment orders, ensuring that the power to arrest is utilised in occupation orders and employing a police solicitor so that everyone can afford non-molestation orders."
John Smith, an independent candidate, said it was a priority and it was something that services had to work in partnership to tackle.
He added: "Funding the work is complex and a good understanding of the issues will help when commissioning."