Chalara ash dieback found at Chobham nursery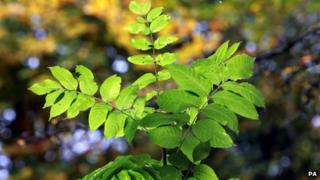 A wholesale plant nursery has been confirmed as the first location in Surrey affected by a fungal disease threatening the UK's ash trees.
Chalara ash dieback was found in July in five young trees out of a batch of 100 supplied to Plants Ltd in Woodcock Lane, Chobham.
Owner Peter Blakey said the whole consignment was burnt immediately and no more infection had been found.
The disease has also been confirmed in Essex and at eight sites in Kent.
Mr Blakey said the diseased trees were found during a routine inspection by the Department for Environment, Food and Rural Affairs (Defra) and ordered to be destroyed.
The bare-rooted 2ft (60cm) trees originally came from Germany.
Hedgerows checked
"We have an inspection from Defra four times a year but in the past ash trees had not come within their remit," said Mr Blakey.
"It was a completely new one on us. We didn't know anything about ash dieback at the time.
"All the mature ash trees in the hedgerows were checked and nothing else was found."
A plant health order banning imports and the movement of ash trees came into force on 29 October.
Mr Blakey said Plants Ltd had stock worth between £2,000 and £3,000 which it was now unable to sell.
Chalara dieback of ash has been confirmed in trees in 14 nurseries, 36 planting sites and 32 forests and woodlands in the UK.
Arrived by wind
The Forestry Commission said on Monday it had been confirmed in forests and woodland in Kent and Essex after an urgent survey.
It said the disease in Kent and Essex might have been present for a number of years, and was likely to have been transmitted by wind from mainland Europe.
Environment Secretary Owen Paterson said: "We're doing everything we can to identify where the disease is so that we can focus our efforts on those areas.
"Once we had the scientific advice that the disease in mature trees had probably arrived here by wind from Europe, it was always likely that we'd find it in coastal areas."
He added: "We will have the results of the initial survey in time for a major summit on tree and plant health later this week.
"Scientists, charities, landowners and the horticultural industry will meet to agree the next steps for how we can work together to control this threat to our ash trees."