Complaints over quick house sale companies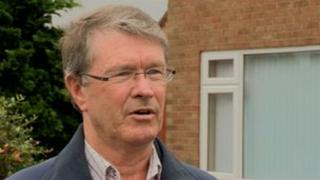 Two firms which promise homeowners they will buy properties quickly have been criticised for dramatically dropping their price at the last minute.
Gateway Homes UK and its sister company Tom Craven Property, based in Leeds, say they can buy homes in as little as seven days.
But among 40 complaints to trading standards are claims of delays in sales going through and sudden price drops.
The company said it had helped "thousands of satisfied homeowners".
In a television advert, Gateway Homes UK said a sale could be "finalised in as little as seven days".
But the company asks the seller to sign a contract allowing it up to 12 months to complete the deal.
'Very angry'
Following an investigation by the BBC's Inside Out, the Law Society has called on the government to increase regulation to protect vulnerable sellers.
Malcolm Haywood, from Lincolnshire, wanted to sell his house quickly and agreed a price of £120,000.
But three months later, just before the deal was due to be done, Gateway dropped the price to £80,000 and the deal collapsed.
Mr Haywood said: "I was very angry - very angry indeed. I thought this would be a quick method of doing a deal. Gateway Homes leave a very nasty taste in the mouth."
Pat Hardy, from Teesside, signed the same contract with Tom Craven Property.
She said: "The day before the removal men were due to arrive I got a phone call. I had agreed to sell the property at £75,000 - they offered £40,000."
The next day the price was increased to £50,000 but the deal still collapsed.
Mrs Hardy said: "They made me feel like I was worthless. What we had worked for for years to put into the property - they were saying it was worth nothing."
'Satisfied homeowners'
Jonathan Smithers, from the Law Society, said tougher regulation was needed.
He said: "We are talking about protecting vulnerable people and they need protecting. This sounds like an abuse and that is a very good reason to have more regulation."
In a statement, Gateway Homes UK said the number of complaints was well below 1% of its customers.
It said trading standards had "never investigated Gateway and have no plans to" and none of the inquires to the watchdog had been formal complaints but many were "pre-shopping inquiries".
It said it offered "full transparency from day one" and the initial contract, which was separate to a formal sale contract, was jargon-free and easy for a customer to understand without the need for legal advice.
It said sometimes a revised offer was necessary after a surveyor valuation but the customer was free to walk away and that delays only occurred in a minority of cases.
David Lodge, a spokesman for West Yorkshire Trading Standards, which has received 40 complaints about the companies, said the most common complaint was in relation to the purchase price.
He said: "Other things include long delays. This company claims on its website it is going to take the pain out of selling your property but what people don't always realise is that process can take up to 12 months and that's actually in their terms and conditions."
Watch more on this story on Inside Out North East and Cumbria, BBC One, 19:30 GMT, Monday 5 November.