East of England Ambulance bosses answer MPs' criticism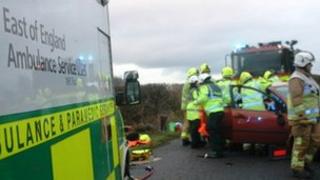 Ambulance service officials were told to "provide the service expected", particularly to people in rural areas, when they met local MPs earlier.
The East of England Ambulance Trust has been criticised over the length of time it takes to get to some call-outs and the MPs said delays were unacceptable.
Six MPs from Cambridgeshire, Essex, Norfolk and Suffolk met the trust's chairman at Westminster.
The trust said it was recruiting more staff to improve response times.
Therese Coffey, Conservative MP for Suffolk Coastal, said: "They seem to be forgetting that the people who use the service live right across the six counties, not just the urban areas where it's convenient for the ambulance service to try and hit its statistics.
"We all pay the same taxes and we need to get to the bottom of why the trust is neglecting areas where it feels it cannot necessarily hit its targets.
'Unique challenges'
"People are not getting the service they need and I think it's time the chair of the board gets to understand quite how seriously this is being taken by me and other MPs.
"The service is not what you would expect or hope for on a consistent basis.
"I recognise that most people get a good service, but we were looking for better information to give us more confidence that the ambulance service was actually doing what it was supposed to do - improve services for all our residents."
The trust's chairman and deputy chief executive also met Liberal Democrat MP Simon Wright (Norwich South) and the Conservative MPs Jonathan Djanogly (Huntingdon), Peter Aldous (Waveney), David Ruffley (Bury St Edmunds), John Baron (Basildon & Billericay) and Oliver Heald (North East Hertfordshire).
The trust has to make savings of £50m to its budget over five years.
A spokesperson for the trust said: "The trust is funded to meet regional targets and not more local or county based targets.
"However, we recognise that rural areas present unique challenges and have recently invested £400,000 in rural areas.
"This investment is going hand in hand with new rotas based on an in-depth demand analysis and being introduced shortly to better place crews where and when patients need them to improve response times further."
The ambulance service covers Bedfordshire, Cambridgeshire, Essex, Hertfordshire, Norfolk and Suffolk.