Tunbridge Wells M&S shop death still unexplained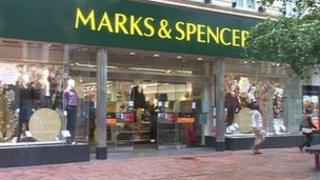 A man's death in the staff area of a Kent shop remains unexplained with the cause of death still to be established, police have said.
Philip Dodd, 62, from Horley, Surrey, is believed to have been electrocuted while working as a contractor in Marks and Spencer in Tunbridge Wells.
Kent Police said the widower's death on Saturday was being treated as a work-related and unexplained.
A post-mortem examination is due to be carried out later this week.
Emergency services including the Kent Air Ambulance were called to the incident in the Royal Victoria Place shopping centre in Calverley Road just before 15:30 GMT on Saturday.
'Electric shock'
Police said Mr Dodd was found dead in a staff area of the shop where he had been working.
Officers said there was no need to evacuate the store and no members of the public were involved or affected by the incident.
Mr Dodd's family have been informed of his death.
On Saturday, Kent Police said they believed the man had died after suffering an electric shock.
After the incident, a spokeswoman for M&S said: "There has been a tragic incident at the store today and our thoughts are with the family concerned.
"We are now concentrating on doing all we can to assist the emergency services with their investigation and as such are unable to comment any further at this stage."