London to Brighton Veteran Car Run heads to south coast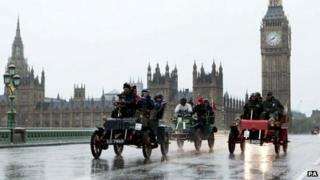 About 500 pre-1905 vehicles have made their way to the Sussex coast in the annual London to Brighton Veteran Car Run.
Participants left London's Hyde Park on Sunday to drive down the A23.
The route took through Redhill in Surrey, before finishing at Madeira Drive on Brighton seafront.
Organisers said participants overcame torrential rain which drenched large parts of the South East on Sunday, and remained in good spirits.
Spokeswoman Helen Holness said: "All the cars took off from the start line in Hyde Park.
"We've had some big puddles on the route, but the cars have gone round them and everyone is still running."
Pink Floyd drummer Nick Mason, Coronation Street actor Tony Hirst, and British racing driver Sir Stirling Moss were among those taking part.
Ultramarathon runner Duncan Philips, from Tunbridge Wells, Kent, was also taking part in a challenge with US-based veteran car driver Dan Suskin to see who reaches the coast first.
'Loser buys ice cream'
Before the event, Mr Philips said: "Although I've been running for several years, I only had the idea to run against Dan's car just recently.
"We have a friendly wager on who will win and the loser must buy the ice creams in Brighton."
Mr Suskin said: "I believe he might fare better than I will on the uphills, but I should pass him again on the downhills."
The Royal Automobile Club, which stages the veteran run, said it was the world's oldest motoring event.
It commemorates the Emancipation Run in 1896, celebrating the Locomotives on the Highway Act which raised the speed limit from 4mph to 14mph and abolished the requirement for vehicles to be preceded by a man on foot.
In 1896, 33 motorists set off from London but only 14 made it to the seaside.
Each year, the event celebrates a chosen country which this year is Great Britain, to tie in with the Queen's Diamond Jubilee celebrations and the London 2012 Olympic and Paralympic Games.
This year's event is raising money for The Royal British Legion.
In the UK, cars classed as veteran vehicles are those built prior to 1905.