'Water summit' in drought-hit South East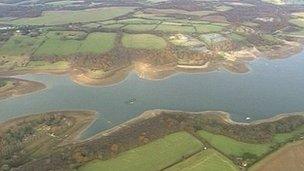 Politicians, farmers and water industry leaders will attend a "water summit" to look at supply issues after drought hit south-east England earlier this year.
The event is being run by the Farming and Rural Issues Group for the South East which represents farmers, growers and other land-based organisations.
Chairman of the group Andrew Colquhoun said parts of the region had the same rainfall as Beirut.
He said water security was fundamental to increased farming production.
"We want to ensure that farmers and growers in the region have access to a fair share of water resources and enjoy equal status with other users, given their vital role as producers," he said.
A business group supporting the event, The Country Land and Business Association (CLA), said farmers and growers were increasingly worried about long-term availability of water at an economic price in a region facing increased urban demand for water and more dry winters.
Environment minister Richard Benyon will speak at the summit, which has been backed by the National Farmers' Union (NFU), at East Malling Research, Kent, on 12 November.
NFU regional director William White said: "Agriculture uses only 1% of abstracted water in the UK, yet it faces increasing pressure due to population growth and long-term climate change."
He said any further tightening of water regulations must not leave farmers and growers facing a reduction in access.
Drought spread across England earlier this year.
In March, water companies across the South East brought in hosepipe bans.
Three of the region's water companies applied to the government for drought permits and a drought order to take supplies from rivers.
In some parts of the South East, groundwater levels were lower than in the hot dry summer of 1976.
The South East had already been designated as an area of serious water stress in 2007 by the Environment Agency.
That designation saw compulsory water metering rolled out across the region.
Reservoirs recovered by May after heavy rain, but some of the deeper aquifers remained low in September and South East Water said autumn and winter rain was still vital.
An Environment Agency report said in June that many farmers had faced uncertainties over availability of water this summer and had expected restrictions on irrigation.
The report said the industry was looking ahead and considering what measures growers could take to be more resilient to dry weather, such as developing drought resistant crops, better irrigation, and setting up abstraction groups to share water.
Related Internet Links
The BBC is not responsible for the content of external sites.