Epsom Hospital merger: 'Careful review' as NHS deal halts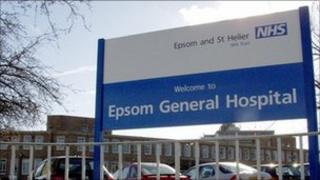 Circumstances around the halting of a hospital merger in Surrey will be reviewed carefully, an MP has said.
Last week, NHS London agreed the proposed acquisition of Epsom Hospital by Ashford and St Peter's Hospital NHS, should halt for financial reasons.
Two councils called for an early resolution to the situation. Epsom said it would seek the local MP's support.
Epsom MP Mr Grayling said nothing would be done hurriedly but Epsom would not lose services in the short-term.
After the merger was halted, he said: "I have talked to my colleague Jeremy Hunt, who is now health secretary, about the situation and he has assured me that the situation will now be reviewed carefully and nothing will be done hurriedly."
'Services safe'
Epsom Hospital is currently part of Epsom and St Helier NHS Trust.
The merger process began in 2011 after the trust was deemed unable to achieve foundation trust status alone.
The current trust is made up of Epsom, St Helier and Sutton hospitals, and Queen Mary's Hospital for Children.
Mr Grayling said a decision had already been taken to remove acute services from St Helier, but services could not be removed from both Epsom and St Helier hospitals.
"So there is no question of Epsom losing services in the short term, though it has some financial challenges that have to be addressed," he said.
Mr Grayling said he would play an active role in the work to be done to find a new path for Epsom Hospital.