The fight for England's rivers: Canoeists call for greater access
By David Bailey
BBC News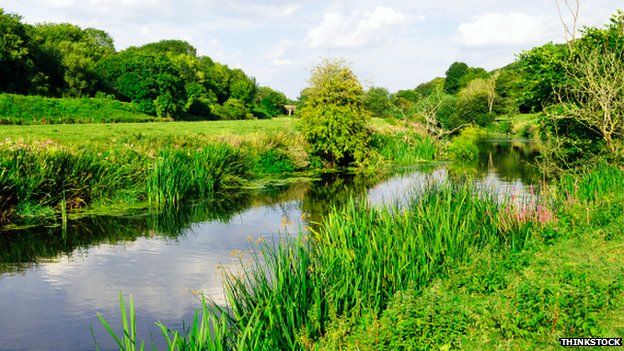 From punting on the Avon, to the Oxbridge boat race, England's waterways evoke images of a bygone time spent simply messing about in boats. So why are canoeists and anglers almost coming to blows over access?
You might think that all was well on the quiet backwaters of England's waterways.
According to some, it is a battleground out there amongst the scenery and wildlife - and one that shows no sign of abating.
The argument is between canoeists, who want to paddle anywhere they like, and landowners and anglers, who say they cannot. Canoeists want "permission to paddle" in the same way ramblers have a "right to roam".
"It's like canoeing in Baghdad," one canoeist tells the BBC. "You're never sure what's round the next corner."
Although perhaps guilty of hyperbole, the man - who does not want to be identified - was speaking about the intimidation he felt approaching disgruntled anglers on a stretch of the Hampshire Avon.
And it seems the taunts and shouts he experienced echo around a number of the country's inland waterways.
It means the UK's 1.2 million canoeists - according to recent British Canoe Union (BCU) figures - have about 2,800 miles (4,500km) of water to explore once canals and other watercourses are taken into account.
But the vast majority of rivers are inaccessible to the public.
The person who owns the riverbank - the riparian owner - also owns the river bed. Canoeists argue no-one owns the water flowing over the river bed on which they wish to paddle.
Some also argue that a public right of navigation dating back to medieval times still exists.
The Reverend Dr Douglas Caffyn has published a thesis on the subject. He claims the legal position is clear for non-tidal rivers, which have no regulatory authority.
"There was a public right of navigation on all rivers between 1189 and at least 1600, and that right has not been lost. It means there is a right on all usable rivers now," he says.
Dr Caffyn believes the right was confirmed in law with the Magna Carta in 1215 and reinforced in the 1472 Act for Wears and Fishgarths. Others disagree, with one QC telling the BBC this was a "misunderstanding".
"It would make a major difference to the opportunities for recreation for people if the law was the same in England as it is in Scotland [where canoeists have access]," Dr Caffyn adds.
Paddlers and riparian owners have been encouraged by the government to come up with voluntary access agreements. Canoeists say they should not have to negotiate for something they already "have a right to", and that voluntary agreements simply do not work.
Many landowners, they say, do not sign up to them, identifying the owner can be difficult, and rights for a stretch of river are often held by a number of different people - making it impractical to negotiate an agreement.
Such voluntary access agreements are rare. About 500 miles (800km) of restrictive access have been added over the past 40 years.
Canoeists say they have had stones thrown at them, been sworn at and physically stopped by anglers as they have attempted to paddle on contested waterways.
The BBC was told of barbed wire being strung across a river in Cumbria and canoeists elsewhere reporting car tyres being slashed, they suspect, by angry landowners.
Matthew Greene, from Bristol, says he had an argument while paddling on the Hampshire Avon.
"The landowner threatened that if I didn't stop he was going to jump in to the river and turn me out of the boat. I just kept paddling," he says.
"On the same journey a fisherman stepped into my path and stopped the boat."
On the flipside, some anglers - who say the law is on their side - tell of being attacked by paddle-wielding canoeists while others accuse canoeists of deliberately paddling through their lines.
Jason Lewis, managing director of Southern Fisheries, says: "I did have an incident where someone tried to hit me with a paddle... They came upstream [through the fishery].
"The police came and took them away and cautioned them."
The Angling Trust, which represents anglers in England, supports the government's preference for the creation of voluntary access arrangements.
Its chief executive Mark Lloyd says: "The law of the land is absolutely clear - there is no universal right for people to canoe on non-tidal waters.
"Public rights do exist in some places but they are the exception."
Mr Lloyd says the Trust encourages its members to develop voluntary access agreements with canoeing bodies to ensure that paddlers do not conflict with angling or damage fish stocks.
"Unfortunately the British Canoe Union is often unwilling to support these agreements if they don't permit access at all times. The BCU also contributes to conflict by being unclear about the legal position on its website."
In Scotland the situation is different. Since the Land Reform (Scotland) Act of 2003 most rivers have been open to paddle on freely.
So has it been a success? Canoeists would say yes, but some landowners disagree.
William Jackson, secretary of the Upper Tay Riparian Owners Association, says the operators of companies which operate white-water rafts have had an effect.
"Recreational canoeists have formed little distraction to fishermen, however the commercial rafting companies' aims are at complete variance to the fishing interests which as a consequence have been severely depleted," he says. "It disturbs the fish."
Canoe England (part of the BCU) funds a Rivers Access Campaign which is campaigning for a public right of access to rivers.
Spokesperson Tamsin Phipps says: "We're not in favour of access agreements. They haven't worked over the last 50 years.
"It's not just a canoeing versus fishing debate. It's about fairness and shared use of waterways, about how we best use this small country we've got."
So is there any chance the law could be changed to bring England and Wales in line with Scotland? Despite lobbying from campaigners, it does not look likely.
A Defra spokesperson says: "All 2,000 miles of canals and rivers that we have entrusted to the Canals and Rivers Trust are open to BCU members.
"Canoeists wishing to use other waterways can work with the landowner to agree access.
"It's right that these decisions are made between local people, according to their area's own recreational, business and conservation needs, rather than by central government.
"We have no plans to change the current rules on access."
Dr Caffyn thinks the only way to resolve what canoeists believe is the unclear legal situation in England and Wales is for a case to be brought to court.
"Any landowner can sue anyone who comes on to his land for trespass," he says.
"But if you want to find out if you have the right to go over someone else's land or river you cannot go to court yourself, you must get the Attorney General's agreement to use his name."
But he says it would take a determined canoeist with deep pockets to challenge the system, because the case would ultimately end up in the Supreme Court and require "considerable amounts of money" for legal fees.
Would it be worth the fight? One barrister, Jonathan Karas QC, says the legal starting point is that there is no general public right to navigate on non-tidal rivers.
"They are owned as part of the land through which they pass," he says.
"The suggestion that there are general public rights of navigation dating from medieval times is a misunderstanding."
Related Internet Links
The BBC is not responsible for the content of external sites.