Weybourne beach body: Memorial for Michael Sutherland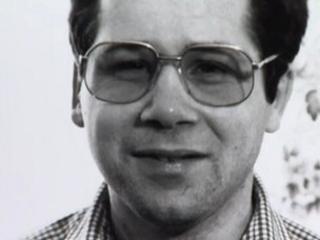 A memorial service has taken place for a man whose body was identified using DNA tests - 23 years after it washed up on a Norfolk beach.
Michael Sutherland, 34, of Cleethorpes, Lincs, was found by fishermen at Weybourne in October 1989. He could not be identified at the time.
Mr Sutherland's body was recently exhumed as part a police operation to investigate missing persons cases.
The memorial service was held at All Saints Church, Weybourne.
About 20 people attended the service on the north Norfolk coast, including Mr Sutherland's sister Ann Stockton and niece Jane Kinnaird.
She said: I loved him, he was my uncle. I just feel really pleased we found him so we can say goodbye."
'Took him in'
Mr Sutherland was buried in an unmarked grave in April 1990 at Weybourne cemetery, near Sheringham, following an unsuccessful six-month missing persons inquiry.
Ms Stockton added: "From what I understand the turnout for him 23 years ago was amazing.
"They [the people of Weybourne] never knew this person. He came to their shores and it seems they just took him in."
The family said they were glad Mr Sutherland had not been cremated as the mystery of his disappearance would never have been solved. They added the memorial had given them closure.
Det Ch Insp Andy Guy said Mr Sutherland's body had been exhumed in April 2011, when DNA was extracted from his teeth.
A match was found after running the DNA profile through the national missing person database.
Officers from Operation Mouldsworth are looking into all cases of missing people from Norfolk and Suffolk. Currently there are about 120 outstanding.