Stephen Farrow 'the psychopath'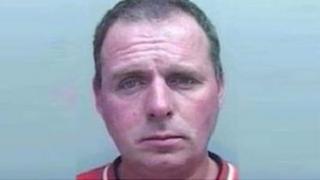 Stephen Farrow has been the subject of a large number of psychiatric reports throughout his life.
Reports read to Bristol Crown Court during his trial for the murders of the Rev John Suddards and Betty Yates showed he had been hyperactive and subject to outbursts from an early age.
He was found guilty on 2 November of murdering both Mr Suddards, 59, from Thornbury, South Gloucestershire, and Mrs Yates, 77, from Bewdley in Worcestershire.
Two psychiatrists who assessed him for the trial both said he had a psychopathic personality disorder.
The court heard that Farrow, 48, of no fixed address, was sent home from his first day at school for misbehaviour, and that his mother was unable to control him.
When he was 10, he set fire to a church altar and stood and watched as it burned.
Farrow told psychiatrists he was sexually abused by someone connected with the Church while he was a schoolboy.
Violent fantasies
He said he had a longstanding hatred of his father, who he described as a harsh disciplinarian.
On the other hand he said he idolised his mother, who he described as placid, and said she did not criticise him.
When he reached employment age, he was not able to hold down a job.
In 1994, Farrow was convicted for an aggravated burglary at the home of 77-year-old Stella Crow in Stourbridge, West Midlands, during which he claimed to have killed before.
Following the conviction, he was assessed by consultant forensic psychiatrist Dr Michael Bond.
Farrow told Dr Bond he was unable to establish any meaningful relationships.
He also said he had developed violent sexual fantasies which involved: raping young girls; and breaking into homes of old women, tying up their husband and raping the woman in front of him, killing the husband in front of the woman, then killing the woman by hanging, suffocation or stabbing.
'Killed backpacker' claim
It was Dr Bond's opinion that Farrow had a psychopathic disorder and was potentially an extremely dangerous individual, if his account of his fantasies was to be believed, and he said it may not be long before he committed serious offences against the occupant of a house.
Another psychiatrist, based at Ashworth high-security hospital, examined Farrow because a question had arisen as to whether he should remain in an ordinary prison for the aggravated burglary or be moved into a hospital environment.
Farrow, who was 31 at the time, told the psychiatrist he had wanted to kill from the age of 13 or 14, and he claimed to have assaulted a disabled boy and a boy of eight when he was aged in his teens.
He also claimed he had killed a backpacker in Devon when he was aged 25.
Farrow said he felt anger towards his whole family, believing they had rejected him.
It was the doctor's opinion that Farrow had a psychopathic disorder. He said Farrow was either exaggerating or desperately seeking help for violent sexual thoughts.
He said Farrow may have been seeking a safe haven rather than his current regime in prison.
Lacked empathy
After being charged with the murder of the Rev Suddards, Farrow told Dr Tim Rogers, a consultant forensic psychiatrist, he met the vicar by chance and that killing him was realising his longstanding fantasy or premonition of killing a Church member.
Dr Rogers told the trial jury it was not possible to be sure when Farrow was telling the truth and when he was lying.
But he said that after assessing Farrow on two separate occasions in recent months, and reading compiled reports spanning several years, he passed the threshold of psychopathy.
He said that even if Farrow was trying to manipulate him, his diagnosis of psychopathy would still stand.
The psychiatrist said Farrow lacked the normal ability to experience empathy and pay regards to feelings, the rights and welfare of others in the usual way.
He said there were 20 traits of a psychopath - when each is given a score of up to two, Farrow scored 31 out of 40.