Prime Minister faces EU budget rebellion led by Kent MP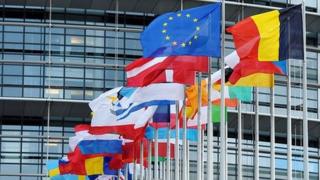 Prime Minister David Cameron is facing a House of Commons rebellion over Britain's financial contributions to Europe led by a Kent MP.
And the issue dominated Prime Minister's Questions earlier.
Labour leader Ed Miliband stepped up the pressure on the PM surrounding the thorny issue of the EU budget by demanding a real-terms cut.
He also accused Mr Cameron of being at the mercy of his backbenchers.
The European Union wants member countries to increase its contributions by 5% over the next seven years. That would see the UK having to pay an extra £1.3bn in 2013 - on top of the £11bn it already pays each year.
David Cameron says he wants contributions to be frozen and increases limited to the rate of inflation, currently about 2%.
But the MP for Rochester and Strood Mark Reckless says that doesn't go far enough and wants contributions cut.
'Difficult issue'
At a time when constituents are seeing big spending cuts at home increasing payments to Europe can't be justified, he says.
Mr Reckless claims to have the support of about 40 backbench Tory MPs including Chatham and Aylesford MP Tracey Crouch, Gordon Henderson, the MP for Sittingbourne, and MP for Hove, Mike Weatherley.
More worryingly for the prime minister, I understand that Labour will back the rebel amendment, tabled by Mr Reckless, later this evening.
Perhaps that's why he told MPs at Prime Minister's Questions that "at best we would like a cut, at worst a freeze" and he was "prepared to use the veto if we do not get a deal that is good for Britain".
Europe has long been a difficult issue for the Conservatives and has been the subject that has caused the biggest rebellion so far against the government.
Last October more than 80 Conservative MPs defied David Cameron's orders and backed a referendum on Britain's membership of the European Union.
I think the Tory whips office will be working overtime today to try to avert another humiliating defeat for the PM over Europe.