London and Medway politicians in estuary airport clash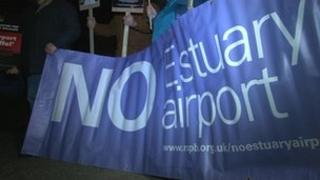 The London mayor's aviation adviser has accused Medway Council of turning its back on regeneration by refusing to back an airport in the Thames estuary.
Daniel Moylan made the claims during a debate on South East airport capacity.
He said no conceivable investment proposal for Medway seemed to get any support from any party on the council.
Medway Council's deputy leader Alan Jarrett said the authority did support the ambitions of local people, but not by blighting communities.
Proposals for increased airport capacity in the South East have included expansion of Gatwick and Heathrow and more use of regional airports.
There have also been three different plans to build airports in the Thames estuary - a floating airport designed by architects Gensier, another known as Boris Island after it was backed by London mayor Boris Johnson, and proposals for a hub airport on the Isle of Grain designed by architect Norman Foster.
Medway Council, a Conservative-run authority, has opposed the estuary plans and called for more use of existing airports.
During the debate staged by BBC Radio Kent which saw protesters gather outside, Mr Moylan said: "No conceivable proposal for investment down here seems to attract any support from any party on Medway Council.
"It's just 'we don't want anything, we just want growing places, and we'll build some houses where the nightingales are'. It's not really ambition for your people is it?"
Responding, Mr Jarrett said: "Clearly we do look after the ambitions of our people."
He said: "The point I will make though is we do not satisfy the ambitions of our electorate, as Boris is seeking to do, by basically destroying and blighting the lives of people that live in other communities outside of his democratic control."
'New Thames crossings'
Mr Jarrett said the disadvantages of an estuary airport clearly outweighed the advantages.
He said additional runway capacity could be achieved at both Gatwick and Heathrow.
Mr Jarrett said: "The Conservatives, before they came into government, promoted the idea of of fast links to regional airports."
He said that argument was about maximising existing capacity and not about "destroying great swathes of north Kent".
Mr Moylan said he understood there was strong local feeling about the disadvantages of an estuary airport, but an estuary airport could bring new Thames crossings, jobs, housing, and opportunities.
Current cost estimates for the estuary airport were between £60bn and £70bn but much of that would be covered by the private sector and there would be a big government contribution towards road and rail links, he added.
He said Medway Council had taken a "very firm and entrenched stance" that would prevent debate.
The full debate will be broadcast on BBC Radio Kent on Friday 2 November at 16:45 BST and on Saturday at 13:00 BST.