London Midland cancellations raised in House of Lords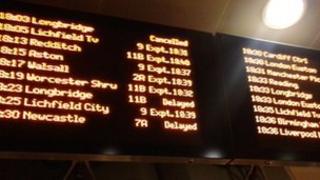 The issue of hundreds of cancellations of train services by London Midland has been raised in the House of Lords.
Labour peer Lord Hunt of Kings Heath said the company was "not fit to run the franchise".
Earl Attlee, the government's transport spokesman, said there were "strong incentives" for London Midland to put the problem right.
The train operator has said it hopes to have dealt with a shortage of drivers by mid-December.
The firm has cancelled more than 470 trains since 7 October, with others disrupted.
Olympic leave ban
Lord Hunt said the shortage of drivers was "ample evidence" that the government should intervene in the franchise agreement.
But Lord Attlee told peers it was "a matter for London Midland".
Tory peer Baroness Sharples asked if the problems arose because drivers were required to work during the Olympics and were now taking leave.
Earl Attlee said this was "more or less right" and that drivers were also taking leave over half term to be with their families.
Rail Minister Norman Baker last week warned London Midland about its performance after further cancellations of services.
Mr Baker said commuters, who have faced weeks of disruption, were not "getting the services they need".
He said he would be closely monitoring the firm's performance.
Ten London Midland rail services in the West Midlands region were listed as being cancelled, delayed or revised on Wednesday evening due to an earlier broken down train.