Police commended for Shafilea Ahmed murder investigation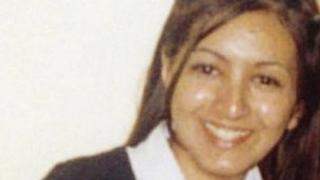 Police who investigated the murder of Shafilea Ahmed have been commended for "an exemplary piece of work".
Fifty-four people have been recognised by Cheshire Police Authority for the nine-year investigation into Shafilea's death in Warrington in 2003.
Shafilea's parents, Iftikhar and Farzana Ahmed, were convicted of the 17-year-old's murder in August.
Authority chairwoman Margaret Ollerenshaw said the commendations marked the staff's dedication.
Shafilea went missing from her home in Warrington, Cheshire, and her body was found in the River Kent in Cumbria six months later.
Her parents denied her murder but the jury at Chester Crown Court found both guilty.
Ms Ollerenshaw said securing the convictions had been "an exemplary piece of police work conducted under very close public scrutiny".
The commendations were "the highest honour we can give" to 39 officers and 15 members of police staff, said Ms Ollerenshaw.
Two members of the Crown Prosecution Service were also given awards.
Ms Ollerenshaw said the authority felt it should recognise the entire team for achieving justice for a teenage girl "denied the right to an adult life".