Stephen Farrow murder trial: Jury considers verdict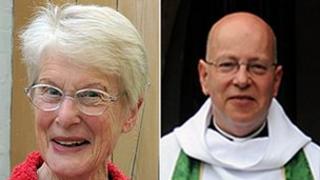 A jury has retired to consider verdicts in the trial of a man accused of the murder of a retired teacher and vicar.
Stephen Farrow denies stabbing Betty Yates, 77, at her home, in Worcestershire, in January.
He has admitted the manslaughter of the Rev John Suddards, 59, the following month but denies murder.
Farrow had refused to leave jail for parts of the trial and judge Mr Justice Field told Bristol Crown Court he was "entitled to remain silent".
"Do not be prejudiced because he ignored your note asking him to attend," he told jurors.
Mrs Yates had been beaten with a walking stick and stabbed with a knife in Bewdley.
Psychopathic personality
Mr Suddards was stabbed seven times and suffered wounds to his shoulder, chest, abdomen and neck, at his vicarage in Thornbury, near Bristol.
Farrow admits killing Mr Suddards on the grounds of diminished responsibility.
The judge said that if the jury decides he did kill Mrs Yates they would then have to decide if the partial defence of diminished responsibility would apply to that death.
He said it was agreed by both the prosecution and the defence that Farrow had a psychopathic personality disorder.
It is the defence case that this abnormal mental function "substantially affected" his ability to exercise self control, he said, and it was up to the jury to decide if this had been proved.
The judge added that both psychiatrists who gave evidence in court said being a psychopath would not have affected Farrow's ability to understand the nature of his conduct or his ability to form rational judgement.
'Adept liar'
He said that it was not disputed that Farrow had told a mental health nurse after his arrest that "I killed her", and it was also agreed that the defendant was an "adept liar".
The judge said it was for the jury to decide whether that "confession" was reliable evidence of guilt.
He said it was the case of the prosecution that there were similar features in both killings; the windows were covered at Mrs Yates cottage and the vicarage, there was no forced entry of either property and both victims were stabbed.
Evidence of similarities was not enough to convict by itself, the judge said, but he asked jurors whether there were sufficient similarities for it to count as additional weight in the prosecution's case.
He added that the defence had pointed out differences such as the vicarage being ransacked but Mrs Yates' cottage was not.
The trial continues.