Pierre Barnes: Search for missing boy called off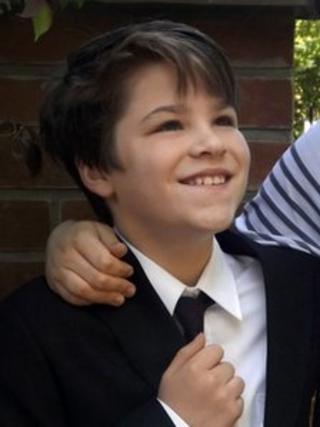 The search has been called off for a 12-year-old British boy who went missing on an island in the south of France.
The father of Pierre Barnes believes his son is dead and his body may never be found.
But the French prosecutor in charge of the investigation insisted inquiries would still continue.
Pierre, from Grantham, Lincolnshire, vanished on Porquerolles while cycling in a storm on Saturday.
Pierre's father, Stephen, said: "Pierre is dead but I hope we find his body, then we can bury him. But I'm afraid that even that might not be possible."
Rescuers found the youngster's bike, with its chain broken, and one of his shoes on a path about 3km from the holiday home his family were renting.
He had disappeared just hours after arriving on the island for a half-term holiday with his family.
Examination of bike
Speaking at a press conference earlier, Mr Barnes said it was "difficult to know" what happened to his son.
"I think there were several factors that happened at the same time," he said.
"The bicycle went wrong, we had this terrible weather, he went away just at the end of the day, and none of these things in isolation would have been significant, but they just all came together and in consequence we have this potential tragedy emerging.
"We as parents don't reproach ourselves for allowing our son to go around on the bicycle. He was 12. No-one did anything that they shouldn't have done."
Search teams had been scouring crevices and caves where Pierre might have sought shelter from the strong winds, as well as ponds and pools he might have fallen into.
Divers and search dogs have also taken part in the search for the youngster, who was wearing a rugby shirt and a robe "worn like a superhero" cape when he vanished.
Xavier Tarabeux, the prosecutor in charge of the inquiry into the disappearance, said: "We haven't closed the investigation.
"We still have to perform a technical examination of the bike because its chain was broken when it was found.
"We still have to conduct hearings with witnesses who might have seen Pierre on his bicycle."
Investigators previously ruled out abduction as there were no boats leaving Porquerolles when Pierre disappeared.
Mr Tarabeux said: "We do not think there is a criminal motive behind the disappearance.
'Let down'
"However, it's still too early to say that the investigation is finished.
"After all our efforts, after combing the island thoroughly, we are stopping the search.
"The weather is getting bad and everything has been done to look for Pierre."
Paul Mourier, the prefect of the Var region, said: "Everything has been done, we have scoured the island on all sides. We have been let down."
Nathalie Bakhache, a senior police officer investigating Pierre's disappearance, said he "may have had an accident" or a "bad encounter".
At the press conference Mr Barnes said the response from people in France had been "overwhelming" and had given the family strength.
"The police have worked tirelessly on this," he said.
"I understand that we've had the army, we've had dog handlers, we've had helicopter people.
"We've had volunteers from the community who came in response to the local mayor sending out a message.
"I want to say how incredibly grateful the whole family is for the tremendous support we've had from everyone."