Cheshire PCC candidates say frontline policing 'a priority'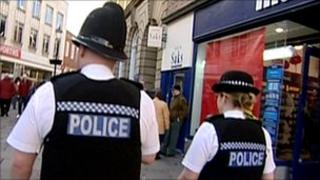 The candidates for Cheshire's police and crime commissioner have said frontline policing will be a priority despite cuts in officer numbers.
Cheshire Police Authority revealed last year that the force needed to make savings of £36.6m by 2015.
It claimed that 700 police jobs - including 213 officers - could be lost over the next four years.
Elections for 37 police and crime commissioners in England and four in Wales take place on 15 November.
John Stockton, the PCC candidate for Labour, said he was not against raising taxes to help save officers jobs.
He said: "I'm about cutting crime not police.
"We need police on our streets to rebuild public confidence in terms of the presence they see.
"We can intelligently use the police precept to pay for that - 3.94% last year saved 59 frontline police officers jobs over a three year period which has to be better than the alternative."
'Not empathy, action'
Independent candidate Sarah Flannery said partnership working was key to tackling a shortage of officers.
"Cheshire police recently did a root-cause analysis of more than 2,000 incidents in a 12 month period and found they were linked to alcohol, drugs, driving and mental health issues," she said.
"This is the difference the PCC can make, joining up and commissioning different services that will actually tackle those issues to support the police and really embed neighbourhood policing."
Ainsley Arnold, who is the Liberal Democrat candidate, said "collaborative working was key."
"Cheshire police have already got initiatives with Northamptonshire police on back office staffing which will have savings of up to £40m over 10 years."
"I think this is the root solution of addressing the cuts, so making sure we can put money into frontline policing."
Conservative candidate John Dwyer said: "I go back to my police career where I've been dealing with grass roots forever.
"When it comes to neighbourhood policing, we're talking about a number of people who are causing problems for everybody else."
"Our role as PCC is to get a grip of that, draw that into the policing plan and ensure the police deliver and deal with these individuals along with the courts."
Louise Bours, who is the UK Independence Party candidate, said people "did not want empathy, but they want action."
"That action comes from intelligence led policing, collating and understanding the problems that are in that area.
"Not all areas of the county suffer the same problems but it does need swift action supporting members of the community."
Cheshire Police Authority said it had to cut 20% of the police budget over the next four years.
The number of officers across the county will reduce from 2,060 to 1,847 over the next four years which was about 10% of the workforce, the authority said.