Ash dieback: Suffolk MP Therese Coffey 'disappointed'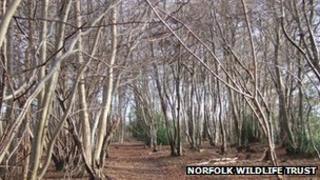 The Suffolk Coastal MP has expressed disappointment that her constituents have been given "no advice" on what to do with ash trees on their land.
Conservative MP Therese Coffey asked the Commons whether there would be a felling or burning policy and "how that will be communicated".
Ministers confirmed that 100,000 trees had been destroyed to try to prevent the spread of the ash dieback disease.
A ban on the import of ash trees came into force on Monday.
Ms Coffey said: "My concern is that no advice has been given to local residents, but I'm starting to get emails of concern.
"While I don't want to rush the Forestry Commission into giving advice they might regret - I'm disappointed they've given no local briefing to people on what they can do to restrict the spread of disease."
The Chalara fraxinea fungus, which causes Chalara dieback - also known as ash dieback - has already killed 90% of ash trees in Denmark.
The disease was first spotted in the UK in February, at a nursery in Buckinghamshire.
It has now been found in the wider countryside in East Anglia, sparking concerns the disease has spread to mature trees.
In reply to Ms Coffey, Environment Minister David Heath said: "I think we need to communicate very well with local people who have forestry interests and trees on their property as to what they should be looking for.
"I'm not going to pre-empt the discussions which are taking place with the experts on the ground as to precisely what is the right action to take, but I can assure her that we will be applying all the resources we have to the problem."
To try to map the spread of the disease, the University of East Anglia (UEA) launched Ashtag on Monday.
The free smartphone app allows users to upload pictures and report possible sightings to a team which will pass any information to the Forestry Commission.
Toby Hammond from the UEA, said: "One of the biggest problems faced by forest conservationists is how to track the spread of the disease and act swiftly to reduce the impact of outbreaks.
"We hope that thousands of people, from school groups and nature lovers to dog walkers and farmers, will use the app help to spot and report any sightings of the ash dieback so the disease can be contained."