Northamptonshire PCC candidates clash over cuts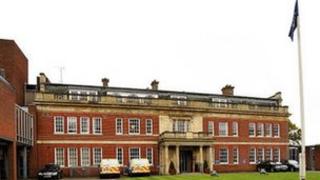 Candidates for police and crime commissioner (PCC) elections in Northamptonshire have clashed over cuts to the constabulary budget.
Northamptonshire Police have to make savings of £20m over four years. The 2012-13 budget is £120.55m - £2m less than it was in 2011/12.
There has been a loss of 107 police officer posts as Northamptonshire Police looks to make savings.
In total, 421 positions have been moved or cut.
However, not all of the staff losses are down to redundancy, some people have moved to new jobs and their positions have not been filled.
'Fairer funding'
The reduction in posts includes officers, back office staff and police community support officers.
There have been calls for a fairer funding formula for Northamptonshire as its rapidly increasing population is not reflected in the cash allocated to it.
Labour candidate Lee Baron said: "I will be championing frontline policing and fighting cuts. There is also £3.6m which the Home Office owes to Northamptonshire Police (due to the funding formula). I will be arguing we should get that back.
"The precept was frozen last year when there was a 3% increase in inflation. If it is frozen again this year we are talking about a 6% cut, which is not sustainable."
Independent candidate John Norrie said: "Northamptonshire is under-funded chronically by the funding formula. As PCC, I would take every opportunity to raise the funding formula which means we lose out on £3.6m. Other areas get far more funding compared to us."
'Efficiency savings'
Jim MacArthur, the United Kingdom Independence Party candidate, said: "I am absolutely determined that I will increase police to a minimum to provide public safety. I am going to look at back office functions which don't directly effect services."
He said he would investigate "how to free front-line staff from doing back-office work" and shed non-essential staff. Mr MacArthur added he would be looking at what savings could be made in the corporate communications office.
Conservative candidate Adam Simmonds said the cuts have not had a big effect on policing in the county: "The police authority has been putting more efforts into looking for savings from the back office.
"I am satisfied the police can be more efficient with the money they use. I am going to look at the whole force estate, at all the buildings and how to use them more effectively. There are also improvements in technology that can help over the long term."
Paul Varnsverry, Liberal Democrat candidate, said: "My view is that Northamptonshire has traditionally been short-changed. The deficit of what police should be receiving is about £3.6m. They need to put that back in before any more cuts.
"We are told in the next parliament there will be further cuts. I don't know if there needs to be more efficiency savings with the police, I think Whitehall should itself should look at inefficiencies."